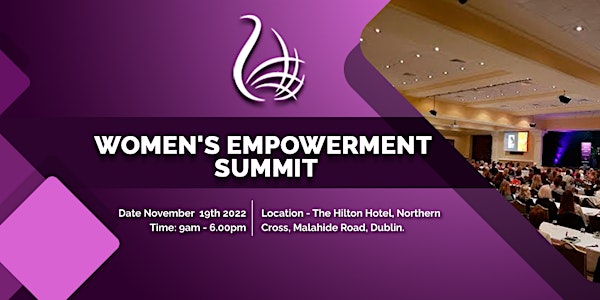 WOMENS EMPOWERMENT SUMMIT 2022
Make all your goals and dreams a reality!
When and where
Location
Hilton Dublin Airport Malahide Road D17 Y924 Dublin Ireland
Refund Policy
Contact the organizer to request a refund.
About this event
What started as one event has grown into something magical. Amazing empowering information and tools are shared, fantastic connections are made, beautiful friendships are created, and so many goals are achieved. Even two bestselling books arose from the summit, WE SUMMIT TOGETHER!
We focus on ✅️Confidence ✅️SelfEsteem✅️Happiness✅️Direction✅️Clarity✅️Focus✅️Purpose✅️Creating a plan✅️Get your mojo and identiity back✅️Peace of Mind✅️Positive people✅️Connections ✅️Fun ✅️Self acceptance...and much more!
Make all your goals and dreams a reality! Become empowered to be the best YOU! Get your mojo back and become confident to live your life fully, with meaning, purpose and authentic happiness. Be around like-minded women who want to encourage you and support you, people who have similar goals to you. Focus forward and shine as you deserve to! Book your ticket now to Ireland's number 1 women's event!
*For exhibition opportunities email admin@wesummit.ie
SPEAKERS:
DONNA KENNEDY- SLATTERY
Donna Kennedy-Slattery is a seven-times bestselling author, highly sought-after professional speaker, psychologist, and mentor. She regularly features in media as an expert in personal and, with over 20 years-experience, her work has been endorsed by many well-known personal development leaders and multi-nationals, including Bob Proctor (The Secret), Brian Tracy (Goals/ Eat That Frog), Mark Victor Hansen (Chicken Soup for The Soul), Pat Slattery (Entrepreneur), Google, Boston Scientific, and ENET, to name but a few.
Her work has been used and referenced by several leading organisations to train staff, and her academic work has been recognised and published internationally by various faculties, including The American Journal of Psychology and The Irish Psychological Record.
Donna is the founder of the Women's Empowerment Summit.
"Listen to this girl, she knows what she is talking about!" - Bob Proctor (teacher in the book/movie, The Secret
"You are going to thank me in your prayers for recommending her to you." -Mark Victor Hansen (Chicken Soup for The Soul book series)
"I have been privileged to speak with Donna Kennedy. - Brian Tracy (Eat That Frog)
"Donna's talk in Google was extremely well received. We had a great turn out and found her content to be very strong!" - Google, European Head office
CAROL DOOLEY
Many of you will know Carol Dooley from Sunshine Radio. A Kilkenny native Carol Dooley has worked in the Radio Industry for over 40 years as a Broadcaster, Producer & Programme Director for numerous stations including BBC Radio 1, Classic FM UK & Holland, Jazz FM London, RTE Radio 1 and Classic Rock KISM in Washington State USA.
She moved to the USA in 2000 and spent the next ten years living on an Indian Reservation where she immersed herself in Indian and Shamanic culture & tradition. She returned to Dublin in 2010 to programme and launch a new radio station - Radio Nova.
Carol joined Sunshine 106.8 (Dublin's No.1 music station for Adults 18+ ) and since 2014 she has presented Sunshine's More Music Drive, currently the No.1 Afternoon Music Show in Dublin. Up until recently she produced and presented Sunshine Saturday Live - a weekly Magazine show which airs Saturday from 10-12pm. Aimed at the 35+ primarily female audience the show combines music with informative chat featuring experts from many different fields including Well-Being, Mental & Physical Health, Positive Living, Family, Food, Travel and more.
She presents a weekly music show for KLCR (Carlow/Kilkenny) as well as the Breakfast Show for Easy Radio (part of Nation Radio network) across the UK
Carol has certifications in Astrology and Tarot and is currently studying Crystal Healing & Moonology. She is also a qualified Bikram Yoga teacher
SENE NAOUPU
Sene Naoupu is an international rugby player representing Ireland in Rugby 7's, 15's and Touch Rugby across nine World Series, four European Championships, and two World Cups. The double championship winning captain with Leinster Rugby, was selected to play for the record-breaking Barbarians three times. Sene has played in seven Women's Six Nations campaigns to date, having vice-captained Ireland for the last four years.
Off the sporting field, Sene heads global strategic projects and research for International Rugby Players and is a World Rugby Women's Advisory Committee appointee. She's led sport strategies for national governing bodies — both inside and outside rugby — Olympic federations and broadcasters. A champion of equal opportunity in sport and business, she also works with global brands to promote the visibility of women. Sene became one of the first female rugby pundits for an Irish broadcaster in the 2022 Men's Six Nations. She is a board director for national voluntary organisation Bodywhys, and undertaking a professional doctorate in elite performance with Dublin City University.
Sene was named in Ireland's 30 Most Influential Women by the Irish Times and Ireland's Top 10 Unrelenting Sportswomen, as she continues to make a meaningful contribution to the game and the community around her.
Councillor YEMI ADENUGA
Councillor Yemi Adenuga, often referred to as "Energy in Motion", is a leadership powerhouse of ideas, who wears different caps at various times, an alluring quality of this audacious social Entrepreneur, mentor, high Impact Global Speaker, People development strategist and business woman. Yemi builds people. She has risen through adversities and challenges, breaking barriers, and making history to become Ireland's 1st elected Black-Female Public Representative and Meath County Council's 1st elected migrant councillor. Yemi and her family 'THE ADENUGAS' are the first migrant family to feature on Ireland's Number 1 reality TV program "Gogglebox Ireland". Yemi is Director of Programs for MIB INSTITUTE of People Development, curator for Energ' Luxury Perfume Oils and Gifts, Lead mentor of YAMAL Program (Yemi Adenuga Mentorship and Leadership Program), President of Sheroes Global Initiative, Project Director of THE BOYS TO MEN PROJECT and cultural Director of CULTUREFEST. She is Charity Ambassador for Core Ireland, she serves on the board of several organisations and member of numerous statutory committees and a Special Project Committees in and outside Ireland. Yemi holds a post-graduate certificate in Innovation, Entrepreneurship and Enterprise from the University of Dublin (UCD) Innovation Academy, an MBA (Project Management stream) from the Liverpool John Moores University, UK, Bachelors of Business Studies Honours (Entrepreneurship Stream) from University College Dublin-(UCD). She is a wife, a mother of 4 and a grandmother of 2.