Description
WOMENS EMPOWERMENT SUMMIT
Do you have goals you want to achieve? Would you like more focus, direction, confidence, solutions or connections? Would you like to network with hundreds of like-minded women, women who have similar goals to you and who can support you in achieving the life you deserve? Then this event is for you!
The Womens Empowerment Summit (WE Summit) was founded by best-selling author Donna Kennedy, and is Ireland's fastest growing women's event - for good reason. All the speakers are carefully selected leaders of the highest calibre (listed below) with a willingness to empower you to be the best you can be. The speakers are women who care, women who walk their talk, women who have results, and they have a fantastic approach to life and business. Importantly, they want to share their knowledge, tips, tools and skills with you so you too can become empowered to achieve what you want!
Who is it for?
The event is for women who want to better themselves in life and/or business. You do not need to have a business to attend this event but if you have, you will learn things that will greatly imrpove your business, That said, every woman can benefit from attending!
Why attend the event?
Sharpen the Saw! The idea is that sometimes you have to take a break from the "work" of your work to sharpen your skills and that might be for life in general, not just business. A dull axe won't cut a tree nearly as effectively as a sharp one. At the event you will learn the most effective strategies from people with solid expertise, allowing you to feel happy in the knowledge that the information is proven to work and could work for you.

Meet leaders and influencers face-to-face. While not all conferences offer you the opportunity to meet your idols, your chances are greatly improved when you're sharing the same space.

You're worth it and you still have things to learn! It's an investment in yourself, your career, and even your company. When you purchase your ticket and when you walk up to the registration desk, you're saying that you're investing in your own growth.

Meet and mingle with hundreds of women who can support you in achieving your goals. There's nothing like being in a room of like-minded people. Other people who want to "better" themselves.

Make quality connections with people you may not ordinarily get to meet. Meeting people over a coffee or lunch, in the exhibitors area or sitting right next to you could be the beginning of a new friendship or business relationship.

Learn how to have more confidence and how to feel empowered to get results that matter.

Learn how to get balance in your life so you can feel productive with purpose.

Have lots of fun!
What are other people saying?
Here are a few testimonials. Others can be viewed on the website www.wesummit.ie.
What you get for your ticket?
Access to the full day event with 6 leading speakers.

Tea/coffee on arrival

Main Course Lunch

Goodie bag from Arnotts

WE Summit surpise goodie bag!
SPEAKERS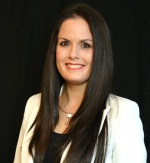 Donna Kennedy
Donna Kennedy is a three-time bestselling author, with The Confidence to Succeed being her most recent release. She is a qualified psychologist, life coach, business coach and mentor. Her academic work has been published nationally and internationally by various faculties, including The American Journal of Psychology and The Irish Psychological Record. She has been endorsed by world leading organisations and has worked with many personal development leaders, including Bob Proctor (The Secret), Mark Victor-Hansen (Chicken Soup for The Soul), Brian Tracy (CEO of Brian Tracy International), Sharon Lechter (Think and Grow Rich for Women and Rich Dad, Poor Dad), Lorel Langemier (The Secret), Anthony Robbins Foundation. Donna regularly features in national and international media as an expert in the areas of personal and business development.
Donna experienced several challenges in her early years but overcame those challenges against all odds. At one point in her life her confidence was so low that she was afraid to walk across the street on her own. Now she is a confident woman who says yes to life and embraces opportunity.
Having learned from some of the world's greatest achievers, at age 23 she bought her first investment property and at age 24 she created her first company, turning over a €1,000,000 in the first year. Year-on-year she has gone from strength to strength and is impacting people worldwide with her fresh and unique approach. If you want better results in your life and business, learn from Donna!
"Listen to this girl, she knows what she's talking about!" - Bob Proctor (best-selling author and teacher in The Secret)
"You're going to thank me in your prayers for recommending her to you." Mark-Victor-Hansen (Chicken Soup for the Soul book series)
"Donna is an extraordinary woman, an inspiration" - Pat Kenny, Radio and TV Presenter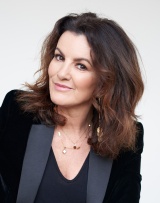 Deirdre O'Kane
We are delighted to welcome renowned award winning actress, Deirdre O'Kane, to the Women's Empowerment Summit. This lady is a fabulous powerhouse who knows how to live life to the full.
The last 12 months have been a whirlwind, with Deirdre voicing the hugely successful Gogglebox for TV3, producing Ireland's largest ever charity comedy show for Comic Relief at the 3Arena, hosting the revamped IFTA Film & Drama Awards for national broadcaster RTÉ, and most recently hitting the dance floor on RTE smash hit, Dancing with the Stars.
Irish comedy's prodigal daughter has also made a long-awaited return to her stand up roots; she delighted audiences across the country with the sell-out show 1 Dee in 2016 and 2017. She will tour a brand new show, A Line of O'Kane, nationwide in 2018.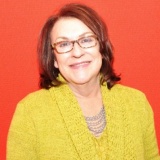 Bibi Baskin
Bibi Baskin was the first woman in Ireland to have a TV chat show of her own. Her career also brought her to the UK where she presented both radio and TV programmes for the BBC and ITV. Throughout this time she had developed a significant interest in the Indian system of Wellness, Ayurveda. And so she went to Kerala, south India, to learn more. She spent a total of fifteen years there where she owned and managed a heritage hotel which also featured Ayurveda.
She has returned to Ireland and gives Motivational talks around the country on the subject of inviting change into your life and illustrates how she coped with this on her varied career path.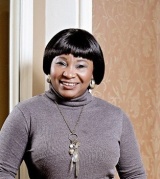 Yemi Adenuga
Listed is Yemi is a two time bestselling author and was listed as one of Ireland's 'Women of Influence' by Irish Tatler magazine, She is a multi-award winning TV personality, a dynamic, international & high impact speaker, Relationship/Marriage Mentor, Broadcast Media Executive and Project Manager, with a passion and a vision to empower women & youth. She was the first female presenter to present a programme on the first private Radio station in Nigeria and the first director/producer of the first programme to be aired on the first private television station in Nigeria, Africa Independent Television (AIT). She hosted and produced a TV talk show, 'Sharing with Yemi' which was Nigeria's Number 1 leading talk show from 1996 – 2003.
Yemi is the founder and CEO of SHEROES, and African Women Development Initiative (AWDI). She was a director and member of the Board of the National Women's Council of Ireland, was two-time Chairperson of the Board of Management of Cultúr Migrants Centre, Co. Meath, Ireland where she is currently still a board member, is Chairperson of Migrant Women Leaders Council Ireland (MWLC), served as the Chairperson of the steering committee of the M.I.M.E project (Migrants Integrating in Meath Equally), Ireland, the Vice-President of the Meath Intercultural Network (MIN), Ireland and Project Manager for Cultúr Migrant Centre, Ireland. She worked with a team of PLA researchers to carry out a thorough and very successful research project work which has led to the development of an Integration Strategy in County Meath, Ireland

Yemi is a member of several professional bodies including the Institute of leadership and Management, Ireland, the MBA Association of Ireland and Project Management Association, Ireland. She studied Accountancy and Mass Communication at the Ogun State Polytechnic, Nigeria and holds a Diploma in Business Studies (Human Resource Management Stream) and a Bachelors of Business Studies (BBS Honours, Entrepreneurship Stream) both from University College Dublin. She obtained her Master of Business Administration (MBA) degree (Project Management stream) from the Liverpool John Moores University, UK. She holds advance diplomas and certificates in; Computerized Accounts and Payroll, Train the Trainer, Counselling & Psychology from the International Career Institute-Australia, Relationship & Couples Counselling from Oxford College-UK, PLA Research from Kimmage Development Centre, Dublin, as well as a certificate in First Line Management. She is married to Actor, Deji Adenuga and they are blessed with 4 children, the eldest of which is married and has made Yemi a Glam'ma (Grandmother). Yemi and her family, THE ADENUGAS, feature on the hit reality TV show, 'Gogglebox' on TV3.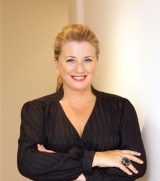 Clara Halpin
Utilising personal style as a key tool for empowering women, Clara Halpin has over 25 years experience in the Irish fashion industry. This woman knows how to bring the best out in you so you feel at your most confident, no matter what your size or shape. Every woman deserves to feel amazing!
In her role of Head of Personal Shopping at Arnotts, Dublin's Department Store since 1843, through one-to-one personal styling sessions, Clara has seen women transform before her eyes. By implementing her expert tips and empathic knowledge, Clara's kind and caring nature empowers women to feel not only comfortable in their own skin, but that they are ready for what life throws their way. Whether you are a CEO of a business or a new mother, Clara's client portfolio spans far and wide, impacting hundreds of women every year.
A leading figure in the fashion industry Clara works on Ireland's most notable fashion shows along with styling well-known faces for media and commercial work. Spanning Oscar award winning actress, First Lady, notable political figures and prominent business women, Clara's customer base is hugely impressive.
Clara was a member of the esteemed judging panel for the Young Designer of the Year contest run in conjunction with Dublin Fashion Festival 2017. She was director and stylist of the Irish Fashion Exposure event in the Stephen's Green Club this year. For the past 10 years she has co-produced and styled the long-standing and successful Marie Keating charity fashion shows. She regularly appears on TV having filmed with Xposé, Ireland AM, and Off the Rails, whilst also contributing to esteemed publications such as Irish Tatler, ImageMagazine, VIP Magazine, RSVP, The Sunday Business Post, The Daily Mail, and The Irish Times to name but some.
In 2016 Clara launched the Irish Fashion & Business Institute. As CEO,Clara recognised that Ireland has a huge pool of talent who are eager and willing to work in fashion. Unlike the fashion industry in other countries, there is no hard a fast route into our industry. That being said, there is a vast array of jobs on the market, including roles in buying, trend forecasting, merchandising, retail management, personal shopping, and image consultations.
An industry that is certainly female dominated, through her hands-on expertise and advice, Clara inspires confidence in her students supporting them every step of the way as they embark on pursuing their dream careers. Behind the glamorous front, there is an enormous business acumen that is the backbone of the fashion industry. Having identified a need for realistic and applied fashion education, Clarastrives to marry fashion and business by way of academic and practical learning supported by thorough mentorship both throughout and upon completion of each course. To date, all of her students have landed positions within the industry both domestic and internationally, starting them on their fashion career journey, equipped and confident in the knowledge and skills they have ascertained under Clara's mentorship at the Irish Fashion & Business Institute.
A culmination of creativity, commercial and business know-how intrinsically interwoven, is certainly Clara's unique selling point. This special combination of skill, talent and understanding underlines her success not only in fashion but also as an empowering, motivational mentor to all ages, young and old in this exciting and ever-changing landscape that we call life.

Joanne Byrne
Joanne Byrne is co-founder of the renowned PR and communications company, Presence Communications. She is a leading agent and publicist to many top national and international brands and personalities, including ALDI, H+M, Haagan Dazs, Monsoon, Bagel Factory, Louis Walsh, Lucy Kennedy, Nicky Byne and many others. Joanne is the lady to listen to when it comes to branding, including branding yourself! She can empower you to recognise your unique identity.
Joanne studied pure English in UCD before embarking on a MBS. She worked as a copywriter, or as her business partner likes to call it a "kipiwroter", due to Joanne's love of spell check before working for a film company where she worked on everything from premieres to choosing a carpet that would work with dropped popcorn!
An opportunity to work for the children's charity 'Variety' gave her the chance to help disadvantaged and disabled children whilst building relationships in the worlds of business and entertainment.
She joined a PR agency before setting up Presence PR with her business partner Sinead Ryan in 2003.
She is passionate about Kerry pointing out that Sinead chose the business' bank but she chose the company colours – green and gold!
LEARN HOW TO BE , DO AND HAVE MORE - YOU DESERVE IT!