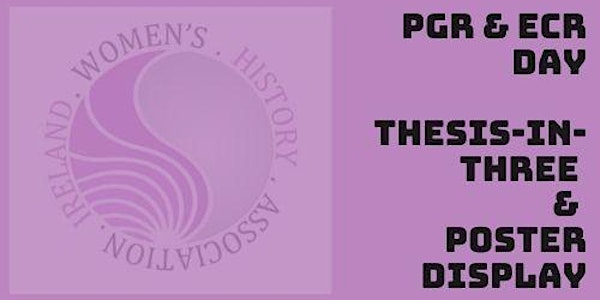 Women's History Association of Ireland Postgraduate and Early Career Day
The first in a series of events for postgraduate and early career researchers hosted by the Women's History Association of Ireland.
About this event
9.45 am: Welcome address from WHAI President Dr Diane Urquhart (QUB)
10 am: Thesis in Three Panel 1 – Women, identity and Irish society
Chair: Susie Deedigan (QUB) and Judge: Dr Elaine Farrell (QUB)
Geraldine Brassil (MIC): A study of nineteenth-century Irish Women Writers and their Literary and Publishing Networks (1857-1900)
Olivia Freehill (TCD): Women, work and welfare in Dublin c. 1890 – 1940
Judy Bolger (TCD): Birth, Death and Survival: institutionalised motherhood in Ireland, 1880-1910
Aisling Keavey (IADT): Reimagining Irish Identities: Photography Hybridity and Identity
Annika Stendebach (Justus-Liebig-Universität Giessen): Not our place? Irish youth (culture) and social space in transition, 1958-1983
Rachel Killeen (TCD): Women and 1970s Ireland
Aine McKenny (University of Brighton): Women and the Troubles: Presence and Absence in Exhibitions
Suzanne Jobling (QUB): Women's Employment, Equal Pay and Anti-Discrimination Legislation from 1969 to 1993: A Comparative Study of the Republic of Ireland, Northern Ireland and Great Britain
11 am: Refreshment Break
11.15 am: Round Table discussion on "Encouragements and Challenges"
Dr Deirdre Foley (Oxford), Dr Shannon Devlin (QUB) and Dr Liz Kyte (UCC)
Chair: Judy Bolger (TCD)
12 pm: Thesis in Three Panel 2 – Revolutionary and Post-Revolutionary Ireland
Chair: Dr Liz Kyte (UCC) and Judge: Dr Laura Kelly (Strathclyde)
Declan O Doherty (QUB): A study of Post-Traumatic Stress Disorder in Post-Revolutionary Ireland
Shannon Freegrove (UCD): Gendering the Youth of the Irish Free State: The Role of Gender in the creation of Political and Social Stability
Susan Byrne (TCD): Women's experience of the Free State justice system, 1922-37
Helen Litton (TCD): Revolutionary Woman', the memoir of Kathleen Clarke (1878-1972)
Niamh Coffey (University of Strathclyde, Glasgow): Irish women's political activism in Scotland during the late nineteenth and early twentieth centuries
Elizabeth Kehoe (TCD): Forgotten Measures - Curfews in Ireland
Caoimhe Kiernan (TUD): Gender diversity in Irish Courtrooms: the impact of increased women's representation on the Irish judiciary'
1pm: Refreshment Break
1.30pm: Mini Keynotes:
Dr Clodagh Tait (MIC), editor Irish Historical Studies and Dr Derek Mulcahy, Oral History Network
Chair: Tanya Higgins-Carey (MIC)
2.15pm: Poster display and closing remarks
Judge: Dr Sarah-Anne Buckley (NUIG)
Please contact the organisers Judy Bolger, Susie Deedigan and Tanya Higgins-Carey at whaipgr@gmail.com with any questions.