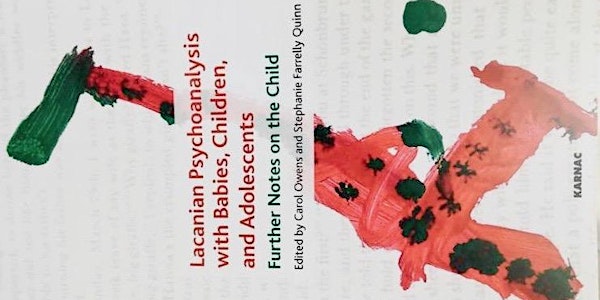 Working Psychoanalytically with Children and Adolescents One - Day Symposiu...
Location
Carmelite Community Centre
56 Aungier Street
D02 R598 Dublin 2
Ireland
Description
Bringing together psychoanalysts and psychoanalytic psychotherapists of different theoretical orientations and affiliations working with children and adolescents in Ireland, this one-day symposium aims to create the opportunity for several important discussions and exchanges to take place which are both topical and relevant to psychoanalytically informed clinical practice with children. The symposium will also create a space for practitioners to get to know each other's work and meet with others in this field. Arranged in three core panels, the work with children and adolescents will be examined and discussed across a range of themes. Each panel will be organised roundtable style with 4-6 presenters each speaking on a particular aspect of the theme, followed by a chaired discussion and participation from the floor.
CPD Points:
This symposium has been awarded 6 continuing professional development (CPD) points by the Psychoanalytic section of the Irish Council for Psychotherapy (ICP).

Programme:
9.00 am: Registration
9.15 am: Welcome Carol Owens and Stephanie Farrelly Quinn
9.30 am -11.00 am:
Panel 1: Childhood and Psychoanalysis: Treatments and Approaches
The child as "subject" will be considered from the perspectives of different theoretical contributions to the field and their impact on clinical practice today.
Speakers and Themes:
Olga Cox Cameron:- Françoise Dolto: An Independent Mind
Margaret Spelman:- Winnicott's children
Marie Walshe:- Lacanian child psychoanalysis: Providing the pleasure peculiar to desire
Donna Redmond:- Synthesis and Creativity: Maud Mannoni's legacy
11.00 am -11.30 am: Tea & Coffee Break
11.30 am -1.30 pm:
Panel 2: The Child as Symptom: Law, Desire and Other
The exigencies of the Law and Desire of the Other will be examined and discussed with regard to the constitution of the child's "symptom" and its "treatment".
Speakers and Themes:
Grainne Casey:- The importance of "patience" in private practice with children and adolescents
Liz Monahan:- Introducing adolescents to psychoanalysis through film
Rosaleen McElvaney:- See no evil, speak no evil, hear no evil: Mandatory reporting and
psychotherapy with children and adolescents
Harriet Parsons:- Back to basics
Stephen McCoy:- Childhood behaviour and pathology
Jane O' Keefe:- The challenges of the therapeutic alliance with parents when working with children and
adolescents
1.30 pm -2.15 pm: Lunch
2.15 pm - 4.15 pm:
Panel 3: The Child in our Time and Place
This panel will examine and discuss the relation of the child with the contemporary social bond: how does culture and technology affect the child's symptom? How are questions of gender, sexuality, and identity negotiated?
Speakers and Themes:
Angela Veale:- Migrant children, cultural bonds, social relations
Jones Irwin:- Sketch of a postmodern child of philosophy
Rob Weatherill:- Being (not) in the world without a father
Eve Watson:- The importance of the child in affirming gender as identity in identity-based discourses
Alison Rooney:- How social media is leading to the big disconnect
Joanna Fortune:- Clicking to (dis)connect
4.15 pm - 4.30 pm: Close of Symposium
4.30 pm - 5.30 pm: Wine Reception to celebrate the launch of the book "Lacanian Psychoanalysis with Babies, Children and Adolescents: Further Notes on the Child" (Karnac, July 2017)
This book is a collection of essays written by Lacanian practitioners from around the world. In eighteen chapters, a range of important aspects of the work with children is highlighted and examined in such a way as to mobilise what we have ventured to call "Further Notes on the Child", a title that pays homage to Lacan's 1969 "Note on the Child". Arranged in five parts, the collection mobilises a contemporary encounter with Lacan's claim that "the child's symptom is found to be in a position of answering to what is symptomatic in the family structure".
Part one indicates possible directions of the treatment with children, exploring the challenges of working with the demand of a manifold Other, as well as examining new spaces for working with children, consistent with Dolto's innovation in her creation of the Maison Verte. In addition, we reproduce extracts from Dolto's "Seminars on Child Psychoanalysis". Part two brings together essays which comment upon the function of "the father" – from Lacan's early formulas through to his last teachings – in the light of clinical case-work. Part three examines the concept of "clinical structure" in the work with children and indicates some responses to essential questions: What are the theoretical assumptions in differential diagnosis? Is there malleability of structure in childhood? What are the exigencies of the clinic of adolescence? Part four focuses on how the symptom represents the child's truth, and because more than ever before today's "child" can live part or all of a childhood either in an institution, or foster care system, the business of how a child's symptom represents a system is examined across a range of systems. Part five brings together four essays each of which comment upon current discursive trends and the practices which become warranted and normalised within and between competing discourses of childhood, such that "new subjects" and "new symptoms" are constituted.
Fees:
General admission 50 euro.
Reduced fee 35 euro (for people who are students or unemployed).
Speakers:
Grainne Casey has a background in primary school teaching and has been working as a psychologist and psychotherapist since 1995. She works with children, teenagers and adults and provides consultation and supervision to psychologists and psychotherapists. She has been involved in the training of professionals working with children and teenagers for a number of years and is a lecturer on the MSc (Psychotherapy) in Trinity College.
Dr. Olga Cox Cameron is a psychoanalyst in private practice in Dublin for the past twenty nine years. She lectured in Psychoanalytic Theory and also in Psychoanalysis and Literature at St. Vincent's University Hospital and Trinity College from 1991 to 2013 and has published numerous articles on these topics in national and international journals. She is the founder of the annual Irish Psychoanalysis and Film Festival, now approaching its ninth year on the theme "What does a woman want?"
Stephanie Farrelly Quinn is a psychoanalytic psychotherapist in private practice in Co. Louth. Upon completion of her MA in psychoanalytic psychotherapy in 2014 she was awarded the Independent Colleges Dublin President's Award in recognition of her academic achievements, clinical expertise, and Masters thesis "Further Notes on the Child: A Freudo – Lacanian analysis of contemporary approaches to the clinic of the child". She is a member of the Association for Psychoanalytic and Psychotherapy in Ireland (APPI) and the Irish Council for Psychotherapy (ICP). She is co-editor with Carol Owens of the book "Lacanian psychoanalysis with Babies, Children and Adolescents: Further notes on the child" (Karnac books, 2017).
Joanna Fortune is a Psychoanalytic Psychotherapist specialising in child and adolescent Psychotherapy. Joanna provides specialist clinical work in the area of Child Attachment. She spent twelve years working in the NGO sector in Ireland before founding Solamh Parent Child Relationship Clinic in 2010. As a clinician, well-established training consultant and guest speaker in her field, Joanna is a regular contributor in the media. She has been a panelist at psychoanalytic events in Ireland and has published articles on variety of topics. Joanna is a TEDx speaker on the relationship between social media and shame. www.solamh.com
Jones Irwin is Associate Professor in Philosophy at the Institute of Education, Dublin City University. Since 2014, he has been seconded as Project Officer with NCCA on the first state multi-denominational curriculum for schools. He was written monographs on Jacques Derrida and Paolo Freire and co-written a text (with Helena Motoh) on psychoanalysis. His forthcoming book is entitled "The Pursuit of Existentialism" (Routledge, 2017).
Liz Monahan is a psychoanalyst working in private practice with adolescents and adults since 2004. She also works with companies and colleges providing individual psychoanalytical support. She has lectured in psychoanalytic psychotherapy at UCD, DCU, Independent Colleges, and The Addiction Training Institute, is a clinical supervisor, and regularly gives talks in schools. Liz has served as a director of APPI and regularly presents at conferences in Ireland and abroad. She is a member of the U.S. based Affiliated Psychoanalytic Workgroups (APW) and is a committee member of the Irish Psychoanalytic Film Festival. Liz has been involved with publications and research for the Family Support Agency, the National Office for Suicide Prevention and the Probation Office. She is currently interested in Lacan, language, art and the unconscious.
Stephen McCoy has worked as a child and adolescent psychotherapist for over ten years within a primary school setting as well as high dependency units for children in state care and in private practice. He currently lectures on the Psychology, Social Care, and Counselling and Psychotherapy programmes at Dublin Business School and is writing a doctoral thesis on the subject of child behavioural problems from a Lacanain psychoanalytic perspective.
Rosaleen McElvaney is a clinical psychologist and psychotherapist with extensive experience in the field of child sexual abuse as both a practitioner and a researcher. She is the chair of the Doctorate in Psychotherapy programme in Dublin City University and author of several publications including Finding the words: Talking children through the tough times (Veritas, 2015), Helping children to tell about child sexual abuse: Guidance for helpers (Jessica Kingsley, 2016), and upcoming chapter "Sexual abuse in childhood" in the Sage handbook of counselling and psychotherapy (Sage, 2017). She is past president of the Psychological Society of Ireland.
Jane O' Keefe is a registered practitioner member of the Irish Foundation of Child & Adolescent Psychoanalytic Psychotherapy and the Irish Council for Psychotherapy. Jane has been working as a child and adolescent psychotherapist both privately and within a multi-discipline team within a family centre for over 10 years.
Dr. Carol Owens is a psychoanalyst working with adolescents and adults in private practice in North Dublin, and clinical practice supervisor. A registered practitioner member of APPI and ICP, she is also the founder of the Dublin Lacan Study Group. She edited The Letter: Lacanian Perspectives on Psychoanalysis from 2003-2006, and the Annual Review of Critical Psychology on Jacques Lacan in 2009. She has published various articles and book chapters on the theory and practice of Lacanian psychoanalysis. She is co-editor with Stephanie Farrelly Quinn of "Lacanian Psychoanalysis with Babies, Children and Adolescents: Further Notes on the Child" (Karnac Books, 2017). She is working with Stephanie Swales on a co-authored book on ambivalence (Routledge, 2018). She is also currently working on an edited collection of essays on Lacan's seminars IV and V with Nadezhda Chekurova Almqvist (Karnac, 2018).
Harriet Parsons has been working and studying in the area of psychotherapy for the last 15 years. Harriet joined BODYWHYS the Eating Disorders Association in 2005, and has worked with the organisation ever since as Services Manager, where she trains, manages and supervises all those working on the various support services. In addition to this, Harriet gives frequent professional training to many groups, GPs, psychiatrists, youth workers, foster carers, social care workers and others. She regularly lectures at 3rd level on the subject of eating disorders in UCD, TCD school of nursing and midwifery. Harriet frequently gives public talks and contributes to media (radio, TV, print) on the subject of eating disorders. She is a member of the Irish Council of Psychotherapy (ICP), and registered practitioner of APPI.
Donna Redmond practices as a psychoanalyst and supervisor in private practice and in an educational setting. She is a member of ISLP, IFPP and a registered practitioner member of APPI. She is also a member of Analyse Freudienne, Paris, and facilitates a reading group affiliated with this organization. She has published articles in The Letter and Analyse Freudienne Presse.
Dr. Alison Rooney is a Clinical Psychologist. She studied Psychology in University College Dublin and was awarded her Doctorate in Clinical Psychology by the University of Wales. She has worked with the St. John of God mental health services and the HSE and also has a private practice based in Malahide. Dr. Rooney works with children, adolescents and adults, referred for a wide range of issues such as anxiety, depression, low self-esteem. Her primary therapeutic approaches include Compassion Focused Therapy, EMDR and Cognitive Behavioural Therapy. She is particularly interested in the role of shame in clients' psychological difficulties.
Margaret Boyle Spelman PhD, CPsychol(AFPsSI), MIFPP, MICP, MEAP, is in Private Practice in Dublin (www.castleknock-psychoanalysis.ie). She worked for three decades as a clinical psychologist in the Irish health services with particular interest in the areas of early intervention, early parenting, and learning disability. She has published three books with Karnac on the subject of D.W.Winnicott: Winnicott's Babies and Winnicott's Patients - psychoanalysis as Transitional Space and The Evolution of Winnicott's Thinking – A Study of the growth of Psychoanalytic Thought. She has also co-edited The Winnicott Tradition with Frances Thomson-Salo in a series on psychoanalytic giants also by Karnac.
Angela Veale PhD, is a Lecturer in Applied Psychology, University College Cork and a child and adolescent psychoanalytic psychotherapist. Her research interests include working with children and families in post-conflict contexts and intergenerational resilience.
Marie Walshe is a psychoanalytic psychotherapist with young people, adults and couples in Dublin. A Registered Practitioner Member APPI, she has been a training analyst, lecturer, supervisor and tutor to post-graduate programmes in psychoanalysis and psychotherapy. She has published previously in The Letter, and has contributed regularly to various psychoanalytically-informed seminars on literature and film in Ireland. In addition to her private practice, Marie has worked in primary and post-primary schools as therapist and supervisor for fifteen years. Her particular concern as a child and adolescent analyst is the promulgation of psychoanalytic principles and ethics among those responsible for the care and treatment of young people.
Eve Watson works in Dublin as a psychoanalytic practitioner, clinical supervisor and academic. She is the editor of Lacunae, the APPI International Journal of Psychoanalysis. She is the co-editor, with Noreen Giffney, of the book, Clinical Encounters in Sexuality: Psychoanalytic Practice and Queer Theory (Punctum, 2017).
Rob Weatherill is a practising and supervisory analyst in private practice in Dublin. He has been a lecturer on psychoanalysis and taught psychoanalytic theory and practice in University College Dublin, Trinity College Dublin and the Milton Institute of Philosophy and Theology. He has written several books and over thirty papers and articles in journals and other media, in Ireland and abroad. His latest book is, The Anti-Oedipus Complex. Lacan, Critical Theory and Postmodernism (Routledge, 2017, http://rdcu.be/tPjq). The Irish Times review is here: http://www.irishtimes.com/culture/books/the-anti-oedipus-complex-review-how-the-west-was-lost-1.3070132
FAQs
How can I contact the organiser with any questions?
Carol Owens:
carolowensappi@gmail.com
Stephanie Farrelly Quinn:
stephaniefarrellyquinn@gmail.com