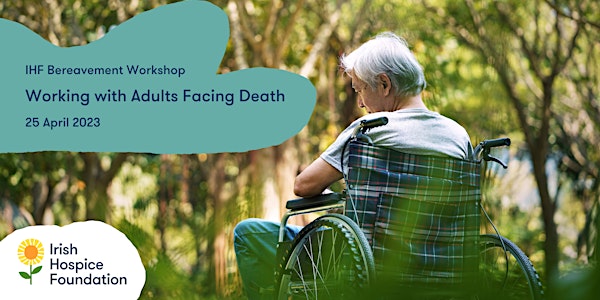 Working with Adults Facing Death
This workshop will reflect on how we can help people facing death to explore what is important to them & their emotional wellbeing.
By Irish Hospice Foundation
Date and time
Tue, 25 Apr 2023 01:15 - 08:15 PDT
Refund Policy
Refunds up to 7 days before event
About this event
Description
What do you need to consider when you know someone is aware they are dying or facing their death? How do you talk to someone who is dying? What informs our practice and ensures best practice? Many would argue that the grief process starts before death. If this is true then what are the implications for the individual, their family or friends and professionals of considering grief through the course of an illness? This workshop will reflect on how we can help people facing death to carefully explore what is important to them and what would support their emotional wellbeing. It will examine whether preparation for and warning of a death can play a positive role in later grieving. We will look at the demanding, often challenging and conflicting issues that arise for people who are ill and what we might do or say to support them. The main focus will be on the needs of adults, but we will also consider the needs of children. The format will include presentation, group discussions and it will be experiential and interactive throughout. It is advisable that those experiencing a recent loss or close bereavement should not attend this workshop.
Learning Outcomes
On completion of the workshop participants will:
understand some of the issues that arise when someone is aware they are facing death
understand the complexities of talking to someone who is dying
reflect on their own experience and clients' experience of facing death
be able to confidently begin to communicate with a person who is facing death in a safe and respectful manner
be informed on consideration of family needs, including those of children
be informed of current HSE practice and Hospice Friendly Hospitals recommendations
Presenter Profile
Niamh Finucane is the Co-ordinator of Social Work & Bereavement Services, St. Francis Hospice Dublin. She has worked there for over 16 years, initially as a Senior Social Worker on the Community Palliative Care Team and then in the In-patient unit, moving in the last 8 years to her current role. Niamh also has previous experience in Child Welfare & Child Protection work, fostering and Medical Social Work in an acute hospital setting. Niamh has written and presented on the role of social work in palliative care and working in bereavement, including lecturing on MSc in Palliative care and MSc in Social Work. She has been involved in national projects on the development of palliative care and the development of bereavement services.
About the organiser
2023 Workshops on Loss and Bereavement

Aim

This is a series of introductory workshops on a range of topics covering loss and bereavement.

Target Audience
The workshops are targeted at professionals and volunteers who may wish to learn more about loss and bereavement and for those working with people who have experienced a major loss.

These workshops are framed relative to the HSE palliative care competence framework at level two – for people whose work increasingly sees them engaging with people facing loss, bereavement and death. Specifically, the competence dimension for grief and loss; and the competence dimension for communication are of relevance to workshop content and learning outcomes.

The framework is available here https://www.lenus.ie/handle/10147/323543

Accreditation

Professional accreditation is under application from the Nursing and Midwifery Board of Ireland. If you have other accreditation needs please contact us. A certificate of participation/attendance at the workshops is available on request.

Teaching Method

The workshops will be held online via Zoom and will include talks and interactive sessions.

Time and Duration

Full-day Workshops will run from 9.15am - 4.15pm.
Half-day Workshop will run from 9.15am - 1pm.
There will be short breaks through the day and a lunch break of 45 minutes included for full-day workshops. Registration will commence at 9.00am

BOOKING DETAILS
Participants may attend one or more workshops. Please note as places are limited early booking is advised.
Fees
€100 per full-day workshop
€60 per half-day workshop
Payment
Full payment is required at the time of online booking.

Cancellations
Cancellations up to 1 week prior to each workshop will be given a full refund minus an administration fee of €10. Thereafter no refunds will be made.