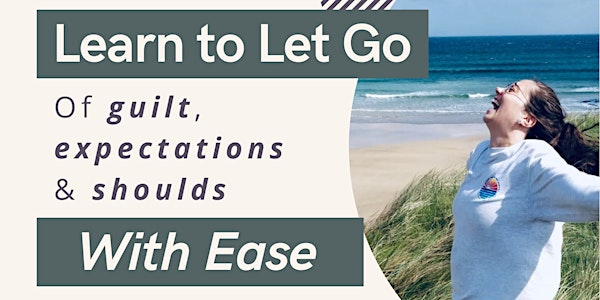 Workshop// Learn to Let Go with Ease
This workshop will support you to let go of expectations, guilt, 'shoulds' and make space for what truly matters most to you!
When and where
Location
TEACH SCOILE by the happy tummy co. Bridge Street F28 X3Y4 Westport Ireland
Refund Policy
Contact the organiser to request a refund.
About this event
The workshop supports you to gain awareness of what is influencing you, identify if it is something that is serving you, and if not, learning how to let go of it, with kindness and self-compassion, to make space and create time for the things that really fill you up, bring you joy, and confidence.
The workshop is designed with all learning styles in mind, allowing time for individual reflection and small group discussion. We will work through the should's, guilt and expectations that keep you feeling stuck or drained, and identify actions you can take to let these go in a way that feels good for you.
Know that expectations are something we all take on, they are coming at us from every angle in our day-to-day lives and have been since the day we were born. The power is in learning to recognize how they influence us, gaining awareness and becoming intentional with how we choose to move forward with these or let them go.
Hot drinks and nibbles will be served, which will of course include some of the happy tummy co.'s signature breads!
Any Questions?
Pop me an email: hello@stephaniemackinnon.com
*For those unwaged, please know there are a few tickets available at a reduced rate. Contact Stephanie for more information