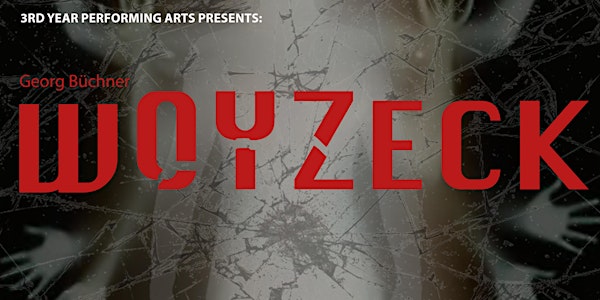 Woyzeck - by Georg Büchner
Woyzeck - Performed and Designed by 3rd Year Performing Arts Students Directed by: Declan Drohan and Agnes Pallai
When and where
Location
ATU, Sligo Ash Lane F91 YW50 Sligo Ireland
Refund Policy
Contact the organiser to request a refund.
About this event
Wednesday 7 Dec @ 18:30 and Thursday 8 Dec @ 14:00 + 18:30 - the Black Box Theatre ATU Sligo.
Tickets: General admission: €5 + Performing Arts students: Free
Woyzeck: a play about the suppressed and the wronged; a play about love, homicide and suicide, where Woyzeck is the prophet of a damned army marching through our nightmare future.
The landmark play of the German theatre which, despite being written in 1836/7, influenced the theatrical scene of the twentieth century as few ones before it did.
Woyzeck is the first working class tragedy, Büchner roots it in the people and making the tragedy a true one as it is not brought about merely by the social circumstances of the characters. Ordinary human actions set in motion a chain of events whose results are incalculable.
The play is a series of key dramatic moments, the stations of the cross on Woyzeck's way to catastrophe. The terse dialogue, the haunting fragments of folksongs, gives it an overpowering sense of bleakness and poignancy. No one could have predicted such a work in 1837; entirely outside the Zeitgeist, an independent product of a unique theatrical voice.
Cast: Dean Murphy, Elaine Dunne, Robert Siberry, Piotr Slawinski, Niamh Ellis, Dino Torlakovic, Shannon Gormley, Nathan Grant, Katherine Perez, Timmy Van Rensen, Jules Sine, Diellza Ilgner, Faye Mallia, Luke Camelleri, Malcom Micallef, Rebecca Grech.
Designers: Meabh Martin, Kevin Ryan, Celine O'Brien, Emma Fox, Sorcha O'Malley, Gianluca Bianco.
Crew: Noelle Addai, Ronan McNabola, Mark Gallagher, Adam McAndrew, Sarah Dennehy, Adam Lee, Jessica Kavanagh, Sarah Gilligan, Reme Quill, Conor Dowd, Paul Oliyide. (2nd Year)