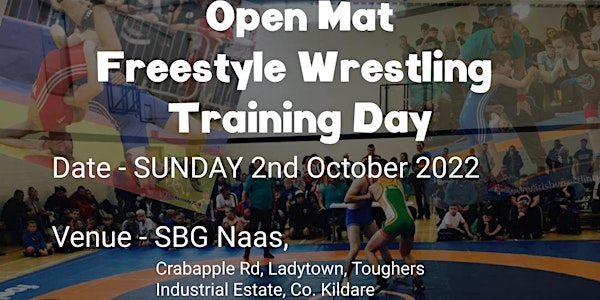 Wrestling Open Mat Training Day
The IAWA are committed to developing Wrestlers from all ages and genders to form an Irish Wrestling Team.
When and where
Location
SBG Naas Crabapple Road Toughers Industrial Estate Ireland
About this event
In preparation for the Irish Open Championships on October 15th 2022, we are holding another Open Mat Freestyle Wrestling Training Day. This is for all wrestlers of all levels and clubs, ages and diversities that have an ambition to wrestle at a National and International level. We are continuing our series of training sessions and are inviting wrestlers to come along. Wrestlers will be coached by experienced high level wrestling coaches.
Wrestlers must be open to improvement and demonstrate the ability to improve from training and the support from the IAWA.
This training session concentrated on wrestling techniques and live sparring.
The event is free
Date : Sunday 2nd October 2022
VENUE : SBG Naas, Crabapple Road, Ladytown, Toughers Industrial Est, Co Kildare
Who is eligible to attend?
The training seminar is FREE to wrestlers.
Training starts @ 11:00am sharp for AGES - Under 18 years (1hr 30min)
Training for Adults and 18+ starts @ 12:45 - 15:00 (16 years can take part with parents permission)
Referees & Officials Upskilling all day
Registration is essential before Sunday 2nd October
Wrestling and training attire for the day -
Wrestling boots are preferred but not essential.
Normal training clothing is fine, if you have a wrestling singlet for sparring matches, please bring it, but it is not essential. No outdoor shoes on the mat.
Everyone attending the session on the day must pre-register.
Numbers are restricted, early registration is essential
Please do not arrive at this event if you are in quarantine, have suspected symptoms of Covid 19 or have been a close contact of someone with C-19 in the previous two weeks before the event..
Outcomes from the day:
Wrestlers - Will learn new skills and techniques from qualified coaches in a fun friendly environment.
Coaches - Will improve coaching skills through a coaching clinic facilitated by IAWA and Sport Ireland Coaches.
Open Mat time on Wrestling Mats for 'Live Wrestling'.
Opportunity for 'friendly' officiated matches as part of IAWA return to wrestling programme in preparation for official competitions scheduled for later in 2022.
Referees - Attend a referee and mat officials clinic.
We look forward to seeing you on the day.
For further information or enquiries email irishwrestling@outlook.ie
I.A.W.A. Team