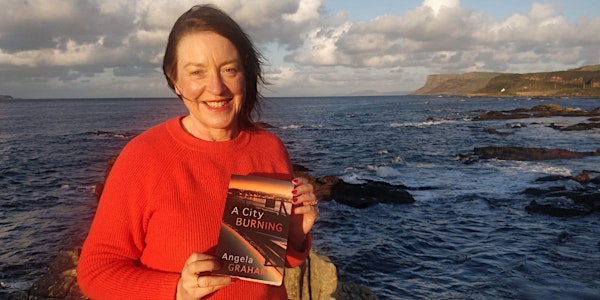 Write by the Sea, Short Story Workshop with Angela Graham
In this unique workshop, Angela Graham, award winning writer and film-maker will focus on how to write from the point of view of "I".
About this event
About the Workshop
The First-Person Short Story – Potential and Pitfalls. Twelve of the twenty-six stories in Angela Graham's collection, A City Burning, are told in the first person. Through an analysis of one of these stories "The Road", Angela will consider how to get the best from the point of view of 'I'. You will begin your own First-Person Story based on a scenario offered by Angela and you'll have the opportunity to ask questions.
Please note that one week in advance of the workshop, Write by the Sea will email you a copy of Angela's Short Story "The Road" from her latest book "A City Burning". In preparation for the workshop Angela is asking you to read the story and consider the two questions she poses. By booking a place on this workshop you are giving permission to Write by the Sea to email the story to the email address that you provide on your ticket booking. Your email address will only be used by Write by the Sea for this purpose and will not be retained by us without your permission.
Angela Graham is a Welsh-speaking writer and film-maker from Belfast. She became a full-time writer in 2017, following a long career as a film maker in documentary and drama (BAFTA Cymru Awards and Oscar Foreign-language entrant)
Angela has received three awards from the Arts Council of Northern Ireland and a writer's bursary from Literature Wales to support her writing.
Since 2018 her poetry has been published in The Honest Ulsterman, The Bangor Literary Journal, The Open Ear, Infinite Rust, The Ogham Stone, The Interpreter's House, Black Bough Poems, New City, Heartland, CAP 2020 Anthology, The Lonely Crowd, The Stony Thursday Book, Places of Poetry, North Star and in the special issue of The North, 2019, devoted to contemporary Irish Poetry. She has contributed to the composite poem Litany For Ireland: Time To Write Around The Coast Of Ireland for Poetry Day Ireland. Her debut collection, Shoot, is currently under consideration with a major poetry publisher.
Angela is also a journalist and reviewer. Angela's novel-in-progress, Thorn, is about the politics of language (Irish and Ulster Scots) in contemporary Northern Ireland. She has written poetry and prose in Ulster Scots and her article, Ding Doon Tha Mairch Dykes was published in The Irish Times on 3rd March 2021.
She is currently finishing a prose and poetry book on place and displacement in Northern Ireland. She is launching a poetry project on the theme of Sanctuary in collaboration with two poets from Northern Ireland and two from Wales. Glen Wilson, winner of the Seamus Heaney Ward 2018 is Angela's mentor for her work for this project.
Her acclaimed short story collection A City Burning was published by Seren Books in October 2020 and is also available as an e-book. Her story All Through The Night was nominated for the Pushcart Prize 2019.
Angela lives between Wales and Northern Ireland.
Angela Graham's Book "A City Burning" is now available as an e-book for £7.99 . See https://www.serenbooks.com/about-ebooks for further information