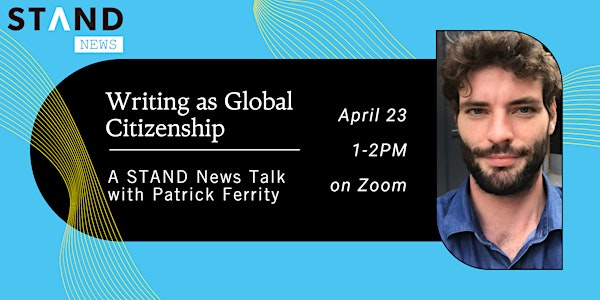 Writing as Global Citizenship with Patrick Ferrity
Join STAND News for a chat with Patrick Ferrity about how writing can support, motivate, and inspire you as a global citizen
About this event
STAND News supports student-led journalism on Irish 3rd level campuses and beyond!
We are so excited to bring you this invitation to join us in chatting with Patrick Ferrity about how writing can inform and influence the ways in which we think about and see ourselves as global citizens.
We'll hear from Patrick as he joins from Bogota, Colombia to share stories of his experiences and perspectives related to the crossovers of journalism and global citizenship, and you'll have a chance to share your own thoughts and ask questions.
Once you register, the Zoom link will be sent to you in an email the day before and on the morning of the talk.
About Patrick Ferrity
Patrick is a journalist and former development worker originally from Belfast. He has written for many major publications worldwide, including Euronews in France, writing on the 2014 Scottish independence referendum; VH Magazine in Casablanca, the largest lifestyle magazine in Morocco; and he has reported on the effect of COVID-19 on peoples housing in the UK for the Bureau of Investigative Journalism.
He has worked on international development projects, including as a Community Development Specialist for VSO-Irish Aid in rural Uganda aiming to break down barriers to girls accessing school, and as a researcher-analyst with a think tank associated at Hassan II University of Casablanca, working on expanding microfinance service outreach to those suffering from poverty in the Middle East & North Africa. He is currently a mathematics and French teacher in Colombia, preparing to cover the 2022 Colombian presidential election.