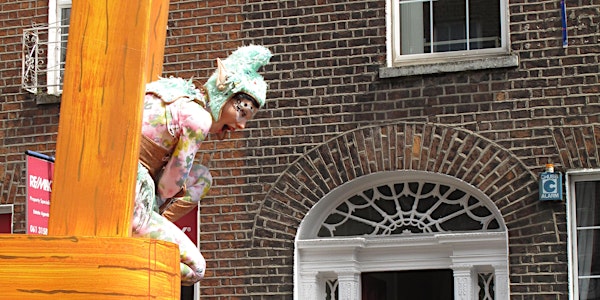 Writing for Street Arts, Circus and Spectacle
When and where
Location
Irish World Academy Building Irish World Academy of Music and Dance University of Limerick Ireland
Description
The MA Festive Arts is delighted to present a series of events around Writing for Street Arts, Circus and Spectacle. These events are presented in collaboration with ISACS, the Irish Street Art, Circus and Spectacle Network.
Critical responses and reflections are crucial for the development of any cultural sector. Reviews, critique and written responses play an essential role in the visual arts, music, dance and theatre, providing a space for reflection and development, as well as an archive of work carried out for future researchers to trace and explore. In Ireland, we need to develop a strong traditional of critical response to street arts, circus and spectacle. Outdoor arts are integral to our cultural life, from the magic of the Macnas parades to the spectacular performances that take place during the Waterford Spraoi festival each year. Outdoor arts animate our streets, towns and cities, they engage with and creatively explore public spaces, and they connect with audiences from all walks of life. In order to contribute to the development of a culture of writing about, reviewing and reflecting on these essential, exciting and innovative art forms, the MA Festive Arts programme is presenting a series of events, free to all, on the subject with a range of international and national invited speakers.
These seminars are open to all, and will be of interest to art critics, writers, performing artists, academics.
EVENT 1
Tower Seminar, Wednesday 9 November 2016, 4pm - 5.30pm.
All welcome. Tower Theatre, Irish World Academy Building.
Seminar title: Critical Encounters with Street Arts, Circus and Spectacle
This seminar explores different ways of critically engaging with street arts, circus and spectacle. Drawing from their own experience within the sector, the speakers will explore the role of reflective and critical frameworks in the development of the position of street art, circus and spectacle in a range of international contexts.
Speakers:
Floriane Gaber is a writer, researcher, journalist, teacher and cultural consultant. She is a well-travelled European commentator and critic of street theatre, mime, circus and spoken/written word performance. She has been published widely and is a regular contributor to cultural and arts journals and magazines. Her books 40 ans d'arts de la rue and How it all started: street arts in the context of the 1970s are important texts that chart this history of street and outdoor arts.
Lucy Medlycott BA, FRSA is project manager for the Irish Street Arts, Circus and Spectacle Network ISACS. ISACS is Ireland's lead umbrella organisation for the development and support of these art forms in Ireland today. Lucy co-founded and managed outdoor arts company Bui Bolg in Wexford from 1994 to 2013.
Kim Tilbrook is a producer and facilitator with over 25 years' experience of working on socially engaged arts projects, including Nowhere Island for the 2012 Olympiad, Wye Valley River Festival and numerous opportunities for youth participation in the South West.
Paschale Straiton is artistic director of Red Herring, an outdoor theatre company based in Brighton. She trained at Circomedia Circus School, Bristol and holds an MFA in Theatre Directing from Birkbeck, UCL. She has worked as a deviser with companies ranging from Wildworks to Improbable.
EVENT 2
LOGOS Seminar, Thursday 10 November 2016, 10am - 12 noon.
All welcome, but places are limited so booking required. IW1-008 (Conference room, Irish World Academy Building).
This seminar will feature all of our speakers from the Tower Seminar (see above), but will have a more practical focus on creating networks between artists and writers, with time for discussion and exploration with our invited speakers.
EVENT 3
Practical skills in arts journalism with Cristín Leach, Thursday 10 November 2016, 1pm-4pm.

All welcome, but places are limited so booking required. Theatre 1, Irish World Academy Building.

This session is suitable for all those interested in developing skills in arts journalism, or who are interested in developing their writing skills. There will be an emphasis on developing practical writing skills around street arts, circus and spectacle.
Cristín Leach is an art critic who has been writing for The Sunday Times Ireland since 2003. As a freelance broadcaster, she has reported and reviewed on TV and radio for arts programmes including RTÉ's The Works, The View, The Arts Show, Rattlebag and Arena, since 1999. She was Entertainment Editor for RTÉ Interactive from 2001-2003 where she launched and edited the national broadcaster's first online arts and culture website, rte.ie/ACE. A graduate of UCC Arts and DCU School of Journalism, she teaches occasional critical journalism workshops.
Following this series of events, MA Festive Arts students will be attending the National Circus Festival, which takes place in Tralee, Co. Kerry, from 10-13 November. The students will be creating new writing in response to the many events and performances during this festival - for more information on the National Circus Festival, please visit: http://www.circusfestival.ie/
The MA Festive Arts programme focuses on festival development, festival performance and research on the role of festival in society. For more information on the MA Festive Arts Programme, please visit: http://www.ul.ie/graduateschool/course/festive-arts-ma or contact the Course Director, Dr. Niamh NicGhabhann at niamh.nicghabhann@ul.ie. You can watch a short video on the MA Festive Arts programme here: https://www.youtube.com/watch?v=QM0H7KyOYeY
For more information on all our programmes, events, public talks, lectures and performances at the Irish World Academy of Music and Dance, please visit: http://irishworldacademy.ie/