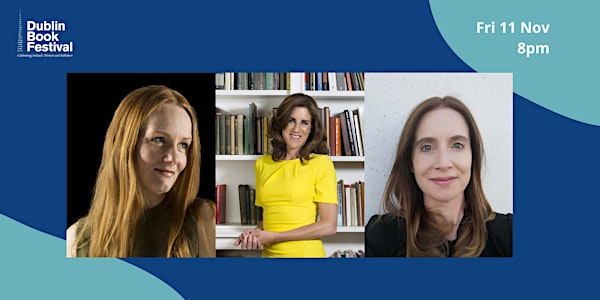 Writing History with Martina Devlin, Emily Hourican and Marianne Lee
Martina Devlin, Emily Hourican and Marianne Lee in conversation with Paul McVeigh about their works of historical fiction.
When and where
Location
National Library of Ireland 7-8 Kildare Street D02 P638 Dublin 2 Ireland
About this event
Join us as we take a step back in time for an evening of conversation in the beautiful surrounds of the Reading Room in the National Library of Ireland. Writer and playwright Paul McVeigh will be in conversation with three contemporary writers bringing history to life with their most recent novels. Edith (The Lilliput Press) by Martina Devlin is a captivating and insightful novel based on the life of Edith Somerville, a writer struggling to keep her art and spirit alive in the turbulence of 1920s Ireland. The Other Guinness Girl (Hachette) by Emily Hourican is the latest in a fascinating and deeply researched series of books about the glamorous world of the women in the famous Guinness family; a story of love, friendship and ambition set in the turbulent years preceding WWII. A Quiet Tide (New Island) by Marianne Lee is a beautifully crafted fictionalised account of the life of Ellen Hutchins, Ireland's first female botanist, illuminating her passion and determination in the face of the many obstacles she faced.
Martina Devlin has written 11 books and two plays and is an award-winning journalist. She has won a VS Pritchett Prize from the Royal Society of Literature and a Hennessy Literary Award. Martina presents the City of Books podcast for Dublin UNESCO City of Literature and is the first holder of a PhD in literary practice from Trinity College Dublin where she has taught Irish literature.
Emily Hourican is a journalist and author. She has written features for the Sunday Independent for fifteen years, as well as Image magazine, Condé Nast Traveler and Woman and Home. She was also editor of The Dubliner Magazine. Emily's first book, a memoir titled How To (Really) Be A Mother was published in 2013. She is also the author of novels The Privileged, White Villa, The Outsider and The Blamed, as well as two bestselling novels about the Guinness sisters: The Glorious Guinness Girls and The Guinness Girls: A Hint of Scandal. She lives in Dublin with her family.
Marianne Lee grew up in Tullamore, Co. Offaly and now lives in Dublin with her husband and two cats. She has a degree in Visual Communications from the National College of Art and Design and an MPhil in Creative Writing from Trinity College Dublin. She works as a designer and copywriter. Her debut novel, A Quiet Tide, a fictionalised account of the life of Ellen Hutchins, Ireland's first female botanist was shortlisted for the 2021 Kate O'Brien Award, featured on RTÉ Radio One Book on One in spring 2022. Marianne is currently adapting A Quiet Tide for the screen and working on her second novel.
Paul McVeigh's debut novel, The Good Son, won The Polari First Novel Prize, The McCrea Literary Award and was shortlisted for many others including the Prix de Roman Cezam. His short stories have appeared in The Art of the Glimpse and Being Various, as well as, on BBC Radio 3, 4 & 5, and Sky Arts. His writing has been translated into seven languages.
Our aim at Dublin Book Festival is to make the festival as accessible as possible by bringing you as many free events as we can. For our free events, donations, no matter how small, are always welcome and will go towards ensuring we can continue to bring you the best in literary events.
Donations can be made HERE