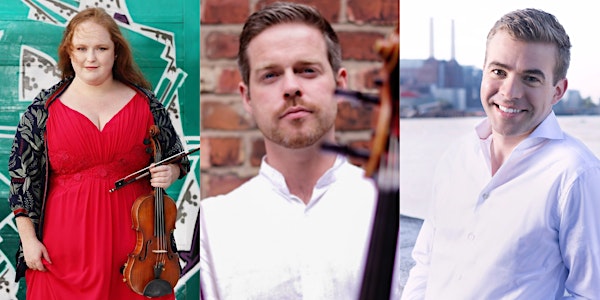 WWF Winter Weekend: Róisín Verity Walters, Paul Grennan & Fiachra Garvey
The combined virtuosity and unbridled enthusiasm of these three world-class musicians promises to make this a concert to remember!
When and where
Location
Russborough House Russborough Blessington Ireland
About this event
ARTISTS
Róisín Verity Walters violin / Paul Grennan cello / Fiachra Garvey piano
PROGRAMME
Schumann Fantasiestücke in A Minor, Op. 88
Amanda Feery The Grip (Ceiliúradh: Part 2, world premiere)
Shostakovich Piano Trio No. 1 in C Minor, Op. 8
Schubert Piano Trio No. 2 in Eb Major, Op. 100 D. 929
Wicklow musicians Fiachra Garvey and Paul Grennan, and Dublin-born Róisín Verity Walters, have each carved out impressive international performing careers, with prestigious venues such as Carnegie Hall, the Barbican, and Wigmore Hall regularly popping up on their collective performance schedules.
The trio's suitably powerful programme starts with Schumann's Fantasiestücke, a work that combines the elegance of 19th-century Vienna with the flamboyance of a composer at the apex of his chamber music writing. Speaking of composers at the top of their game, this concert will also include the world premiere of Amanda Feery's The Grip, Part 2 of Ceiliúradh (Celebration), commissioned by the festival to celebrate the fantastic diversity of Irishness today.
Shostakovich wrote his Piano Trio No. 1 when he was just 16, yet it brims with all of the energy, rhythmic drive and wide-arching melodies that would become hallmarks of his mature compositions. "A Trio by Schubert passed across the musical world like some angry comet in the sky". So wrote Schumann of Schubert's extraordinary Piano Trio No. 2. Grand in scale and heavenly in beauty, this is a masterpiece that pulsates with all the darkness and light of human passion.
Ceiliúradh is a two-part work funded by the Arts Council's Commission Award, with additional support from Wicklow Arts Office. Part I by Sebastian Adams was premiered at the festival in May 2022.