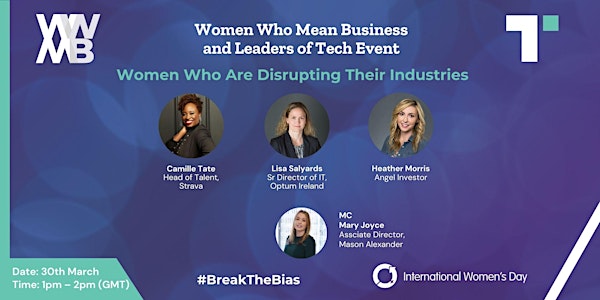 WWMB & Leaders of Tech presents "Women Who Are Disrupting Their Industries"
WWMB & Leaders of Tech presents "Women Who Are Disrupting Their Industries" event for International Women's Day 2022
About this event
In honour of International Women's Day 2022, Women Who Mean Business are joining forces with the Leaders of Tech community to create an event highlighting women who are disrupting their industries.
Challenging the status quo is how change is made. And despite the inherent risk that comes with pushing boundaries, countless women have shown us that doing so has the power to transform the world forever.
Join us at our joint WWMB and Leaders of Tech event as we listen and learn from 3 incredible women on how their disruptive work is pushing past "the way things have always been" to create a future that is more impactful, more sustainable, and more inclusive for everyone.
Through panel events and networking evenings, WWMB has worked to bring like-minded professionals together to promote diversity and inclusion in the workplace, equal pay, and mentorship.
With a fantastic lineup of speakers, we look forward to welcoming you to this event:
Panellists:
Camille Tate, Head of Talent, Strava
Lisa Salyards, Sr Director of IT, Optum Ireland
Heather Morris, Angel Investor
With MC - Mary Joyce - Associate Director - Mason Alexander
Agenda:
1pm Panel Discussion
1.45pm Q&A
If you have any additional needs, require any assistance or communication support, please get in touch with our team in advance and we will be happy to assist.