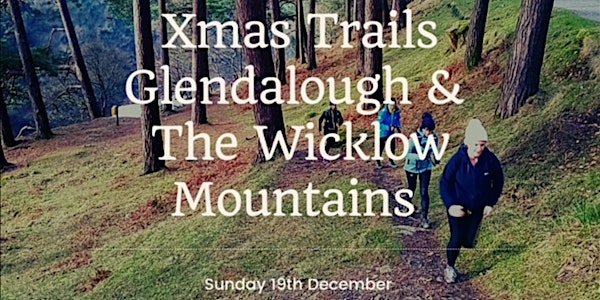 Xmas Trails - Glendalough & The Wicklow Mountains
We'll have✌runs on the morning: ABSOLUTE BEGINNER & INTERMEDIATE. You choose your run! Full details below.
About this event
On this relaxed and social morning we will have TWO RUNS for you to choose from:
 ABSOLUTE Beginner Trail Run - 75 mins (approx) - Lots of hiking with short bursts of very relaxed jogging. 
INTERMEDIATE Trail Run - 2hrs (approx) - Relaxed running and hiking on Mullacor Mountain and surrounding trails. 
Book a ticket and choose your run on the morning. 🎄Xmas treats for all!
Terrain will include fireroads, forestry trails, boardwalk, sandy stone trails and mucky mountain tracks. Total distance and height gain is dependent on the overall pace of each group. 
Start/Finish - Upper Lake Car Park, Glendalough (€4 parking, toilets available) 
* For our Absolute Beginner level we recommended ability to run 3k. For our Intermediate level we recommend ability to run 10k.
Required Kit:
- Trail runners (no road runners please) 
- Coat, hat and gloves 
- Pack with food and water 
She Summits' Policies:
Trail runners, coats, hats and gloves are required on all events.
No exchanges, refunds or transfers onto other events. Please don't request a refund, exchange or transfer of your ticket as you'll be directed back to our policies. 
If we need to postpone an event and you can't make the new date you will not be entitled to a refund, exchange or transfer. 
We reserve the right to cancel any of our events, at anytime, without notice. 
All our events are subject to change and cancellation including: date, time, location and length. 
Over 18s only please.