Yoga for Teens 2 Day Teacher Training
About this event
Yoga for Teens Teacher Training
Following on from Carlow Sports Partnership "Yoga in Schools" Programme which ran for the years 2019/2020 and 2020/2021 in four secondary schools.
Carlow Sports Partnership is offering a "Yoga for Teens" training course to all secondary schools in County Carlow.
 The training course will be delivered by Yoga Therapy Ireland and is a two-day certified training course called 'Yoga for Teenagers'. It is suitable for qualified Secondary School Teachers and SNAs to teach yoga in a school setting only.
Individuals do not need to be qualified yoga teachers to take part in the course.
Speaking with Yoga Therapy Ireland they are very interested in Carlow Yoga in Schools Programme.
Yoga Therapy Ireland will run the training course in Carlow. The cost of the course is usually €250 and is based in Marino in Dublin. Yoga Therapy Ireland is offering the course in Carlow Secondary Schools at a reduced rate of €200 per person.
Carlow Sports Partnership has previously funded secondary schools to run the yoga programmes for both Transition and First-year students in their schools and these initiatives have been a great success.
To continue to build capacity and offer this programme to all secondary schools.
Carlow Sports Partnership will subsidise the training cost by providing €150 per person, therefore each teacher will pay €50 each for this beneficial training opportunity to deliver Yoga for Teens in their school.
The course would take place over a weekend with teachers and SNAs attending both days on Saturday 13th and Sunday14th November 2021.
Yoga for Teens course will run from 10am to 5pm each day.
Participants can arrive from 9.30am and tea/coffee will be available.
To secure your school place book here
If you have a second teacher or SNA interested you can book two places.
For questions or queries contact Majella: mfennelly@carlowcoco.ie
Thanks are extended to St. Mary's Academy CBS Carlow for assisting with the co-ordinating this training programme.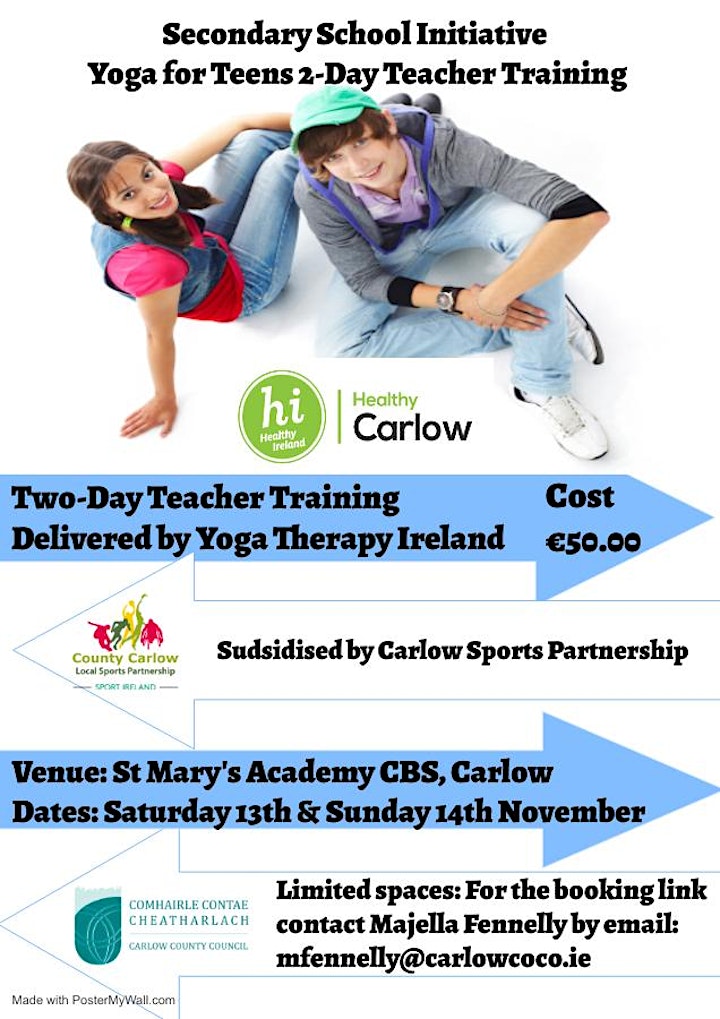 Organiser of Yoga for Teens 2-Day Teacher Training