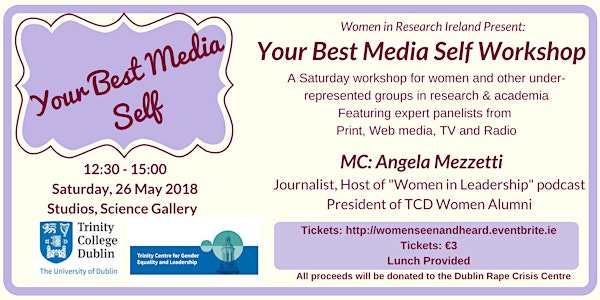 'Your Best Media Self' Workshop
When and where
Location
Studios Science Gallery Dublin Pearse Street Dublin 2 Ireland
Description
After the phenomenal success of our 'Your Best Media Self' seminar last summer, Angela Mezetti is back for our greatest event yet! This month we will host our first workshop, which will prepare you to communicate effectively your research to the media. While Ms. Mezetti will remain center stage as MC for this event, the main focus will be on our carefully selected panels of media experts. They will discuss the best ways that you can convey your work through print, the internet, TV and radio.
In a world where TV is dominated by 'manels' and 72% of news and current affairs broadcasting time is taken by male voices, women and other underrepresented groups need to be seen and heard to equalise the balance of gender voices in media. The goal of this month's event is to empower and inspire attendees to help achieve this balance.
The event will run as follows:
12:30 - 13:00
Greetings with tea and coffee
13:00 – 13:40
MC - Angela Mezzetti: Journalist, host of 'Women in Leadership' podcast and President of TCD Women Alumni
Panel 1: Print and Web Media
June Shannon: Digital health journalist with the Irish Heart Foundation.
Fionnan Sheehan: Editor of the Irish Independent
Dr. Claire O'Connell: Scientist-turned-writer, writes for Silicon Republic and The Irish Times
13:40 – 14:00
Pizza from the Science Gallery Café with tea and coffee
14:00 – 14:20
Comedy Interval Act
Aine Gallagher: Award winning comedian and resident MC of the Bright Club, a science comedy night.
14:20 – 15:00
Panel 2: TV and Radio
Samantha Bourke: RTÉ Prime Time Producer
Neil Doherty: RTE Radio 1
Dr Lara Dungan: Presenter at RTE's Eco Eye, contributor at science show "Futureproof" and presenter of the radio series "Science is Everywhere" for Newstalk.
Dr Shaun O'Boyle: Producer and science communicator who develops public engagement initiatives that prioritise diversity.
This event will take place in the Studios of the Science Gallery on Saturday, May 26th. Tickets are €3.75. All proceeds will be donated to the Dublin Rape Crisis Centre.
If you have any additional accessibility requirements (ISL interpretation, etc.), please notify us in advance at womeninresearchireland@gmail.com.
This seminar is an inclusive, QUILTBAG friendly space.
All are welcome. We look forward to meeting you there!