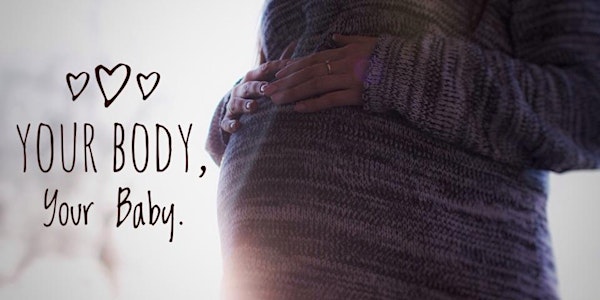 Your Body, Your Baby: Enjoy a Healthy, Natural Pregnancy.
Aches in pregnancy are common but don't have to be normal. Learn how to find natural relief from: low back pain, hip pain, headaches & more.
About this event
Congratulations on your pregnancy!!
The moment you find out you are pregnant is a special time filled with joy, nerves, and excitement. It is a time you start to really take good care of your body and your growing baby. The more comfortable and healthy your pregnancy is, the more you can enjoy this special time with your growing baby and look back on it some day with fondness.
Join Treasa for a 90 minute presentation to help support ailments such as lower back pain, leg or hip pain, leg cramps, heartburn, headaches, foot and ankle swelling. All common issues in pregnancy but many times expectant ladies think they have to put up with them!
Pain can be common, but does not have to be normal
The number one question I hear from my postpartum clients is, "Why did no one tell me this when I was pregnant?". All too often pregnant mamas do not realise there is safe and effective help out there to help with pain during pregnancy.
"... getting basic information on pregnancy, reminders and also very helpful tips and knowledge on certain aspects of pregnancy ... highly recommend Treasa to other pregnant women"
Celestine Brady - January 2020
The more information you have, the better choices you can make and the more confident you feel. Every woman's pregnancy experience is an individual journey. Creating a positive pregnancy and birth experience doesn't necessarily mean all plans are carried out as anticipated. What's important is that you felt informed and supported along the way even if unexpected twists and turns occur in your journey.
The confidence this brings is treasured by both the woman and their partner. Simple actionable advice on the best sleeping positions for comfort, postures to ease aches and knowledge on healthy back, hip and pelvic function can make a world of difference to a mama struggling with pain. Plus, how the tension and imbalances in your pelvic floor muscles can affect not only your comfort but also can impact your developing baby's position (super important as your due date nears…).
"Fantastic! I honestly appreciated [the] intimate session"
Jaruska Doyle - October 2019
With over ten years of experience, I believe that educating and empowering pregnant women with knowledge is vital.
Read more about me and my training
In addition to all these tips for a happy, healthy pregnancy, we will cover the role of hands-on gentle osteomyology in supporting expectant mamas with issues such as backache, pelvic girdle pain, sciatica and headaches. Physical changes and hormonal changes cause a great deal of change to your spine and body both during and after your pregnancy. All these changes can create new issues or exacerbate existing problems, which may have been previously compensated for.
"… couldn't have got by my weeks in pregnancy if it wasn't for this amazing lady … felt comfortable all the time… saw Treasa all during and up to a few weeks before my lil lady arrived".
Ann Buckley – November 2018
If you are excited to find ways to support your body and baby in gentle, natural ways, I really want to see you online on Saturday November 28th. Don't forget partners are welcome to come along too. The beauty of this event being online is that they can sit in with you too from the comfort of your own home. If they have the knowledge to support your choices, it will be easier to implement them!
This is an online event using ZOOM. The ZOOM link will be sent to you 1 day before and also six hours before the event.
If you are unemployed, a full-time student or been affected financially by the COVID19 pandemic please contact Treasa directly as she has a limited amount of reduced cost tickets.
If you have any questions about booking your spot, please contact me here or on 087 1815007.
It is a general talk so choose the options you feel comfortable with and consider that the information provided is not intended to replace individual medical advice.
FAQs
Are there ID or minimum age requirements to enter the event?
The minimum age requirement is 18 years of age. For younger expectant mums, attendance with a parent or guardian is required.
How can I contact the organiser with any questions?
Yes, of course! Contact me on 087 1815007 or email  treasa@naturalbackhealth.ie
What's the refund policy?
There is no refund policy.
Is my registration fee or ticket transferrable?
Yes, if you can not make it, you can transfer your ticket to another person.
Is it ok if the name on my ticket or registration doesn't match the person who attends?
That is ok! But it would be helpful to contact me ahead of time to let me know of the change!