Description
You deserve a beautiful, natural pregnancy.
Congratulations on your pregnancy!! The moment you find out you are pregnant is a special time filled with joy, nerves, and excitement. It is a time you start to really take good care of your body and your growing baby. The more comfortable and healthy your pregnancy is, the more you can enjoy this special time with your growing baby and look back on it some day with fondness.
Join Treasa for a 90 minute presentation to help support ailments such as lower back pain, leg or hip pain, leg cramps, heartburn, headaches, foot and ankle swelling. All common issues in pregnancy but many times expectant ladies think they have to put up with them!

If you are pregnant and hoping for a natural, enjoyable pregnancy and wanting to know more about supporting you and your baby's journey as naturally as possible, I would love to see you at this presentation. I have intentionally limited the numbers to have an intimate atmosphere. Also, offering time for questions and conversations. Plus, the tickets are super low cost as I want to reach out to as many people in the community as possible.
"... getting basic information on pregnancy, reminders and also very helpful tips and knowledge on certain aspects of pregnancy ... highly recommend Treasa to other pregnant women"
Celestine Brady - January 2020
An expectant mama recently attended with concerns over shoulder and neck pain
She was 22 weeks pregnant at the time and the biggest thing she struggled with was getting her two older kids in and out of the car. She came to me feeling fed up, tired, in pain and wondering whether she was going to have to put up with this pain for the remainder of her pregnancy. A lot of medications are not advised during pregnancy, so she was desperately seeking a natural, gentle method of relief. While aches and pains are common in pregnancy, they are not always normal and there are often natural, safe ways to support relief.

We started a plan of care with gentle, hands-on work, tailored to her specific concern. Plus plenty of home-time recommendations on things like sitting positions, stretches and natural supports to relief. Within a few visits she was feeling much more comfortable and back to herself. Even getting out for walks and enjoying time with her beautiful bump!
Pain can be common, but does not have to be normal
With over ten years of experience, I believe that educating and empowering pregnant women with knowledge is vital. The confidence this brings is treasured by both the woman and their partner. Simple actionable advice on the best sleeping positions for comfort, postures to ease aches and knowledge on healthy back, hip and pelvic function can make a world of difference to a mama struggling with pain. Plus, how the tension and imbalances in your pelvic floor muscles can affect not only your comfort but also can impact your developing baby's position (super important as your due date nears…).
"Fantastic! I honestly appreciated [the] intimate session"

Jaruska Doyle - October 2019
The number one question I hear from my postpartum clients is, "Why did no one tell me this when I was pregnant?". All too often pregnant mamas do not realise there is safe and effective help out there to help with pain during pregnancy.
This presentation is all about giving you some straightforward tips to implement and extra knowledge to fuel your confidence! If you are having aches and have been told "it will be fine once the baby comes". This presentation is for you. If you want extra knowledge and direction on how to support a natural pregnancy. This presentation is for you. Proactive positive health choices you can incorporate easily into your daily life to support your well-being and your baby's development.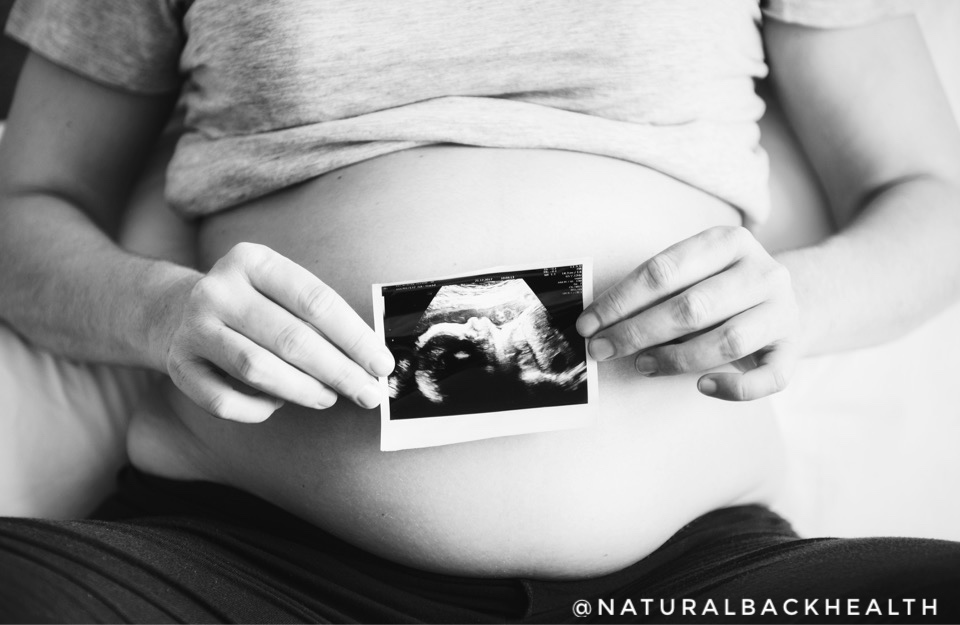 In addition to all these tips for a happy, healthy pregnancy, we will cover the role of hands-on gentle osteomyology in supporting expectant mamas with issues such as backache, pelvic girdle pain, sciatica and headaches. Physical changes and hormonal changes cause a great deal of change to your spine and body both during and after your pregnancy. All these changes can create new issues or exacerbate existing problems, which may have been previously compensated for.

You deserve a beautiful, natural pregnancy.
For the large majority of women this should be within their grasp. The more information you have, the better choices you can make and the more confident you feel. Every woman's pregnancy experience is an individual journey. Creating a positive pregnancy and birth experience doesn't necessarily mean all plans are carried out as anticipated. What's important is that you felt informed and supported along the way even if unexpected twists and turns occur in your journey.

"… couldn't have got by my weeks in pregnancy if it wasn't for this amazing lady … felt comfortable all the time… saw Treasa all during and up to a few weeks before my lil lady arrived".
Ann Buckley – November 2018
If you are excited to find ways to support your body and baby in gentle, natural ways, I really want to see you there on Saturday May 16th! I have kept the cost low as I want to reach as many pregnant mamas and share my expertise and knowledge.

This event is limited to 20 people to give an opportunity to ask questions. Don't forget partners are welcome to come along too. If they have the knowledge to support your choices, it will be easier to implement them!

€20 (not including booking fee)

If you have any questions about booking your spot, please contact me here or on 087 1815007.
It is a general talk so choose the options you feel comfortable with and consider that the information provided is not intended to replace individual medical advice.
FAQs
Are there ID or minimum age requirements to enter the event?
The minimum age requirment is 18 years of age. For younger expectant mums, attendance with a parent or guardian is required.

What are my transport/parking options for getting to and from the event?
If coming by car, there is on street parking on Cork Street, opposite the entrance gate. There is free parking on-street parking on Cork Street and Ormond Street at this time.

For public transport, Cork Street is served with numerous Dublin Bus routes, the 27, 56a, 77a, 77x and 151 all stop regularly. Stop 2379 is the closest stop to the clinic as you head for the city centre. Stop 2314 is the closest stop to the clinic as you leave the city centre.
Other nearby landmarks are Weaver Park (next door to The Wisdom Centre) and Plant Life Garden Centre (opposite to street entrance).
Hopefully this information helps you reach the centre easily.
How can I contact the organiser with any questions?
Yes, of course! Contact me on 087 1815007 or email treasa@naturalbackhealth.ie

What's the refund policy?
There is no refund policy.

Do I have to bring my printed ticket to the event?
No. Let's help mother earth and not print out more paper. I can check tickets purchased on your phone.

Is my registration fee or ticket transferrable?
Yes, if you can not make it, you can transfer your ticket to another person.

Is it ok if the name on my ticket or registration doesn't match the person who attends?
That is ok! But it would be helpful to contact me ahead of time to let me know of the change!