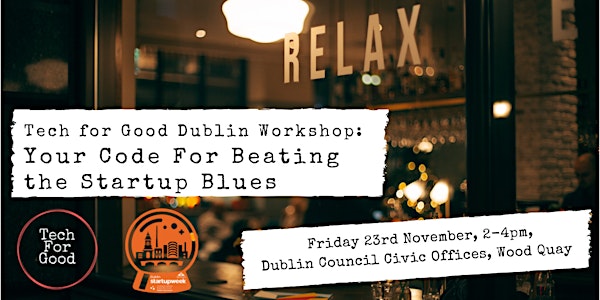 Your Code for Beating the Startup Blues
When and where
Location
Dublin City Council Wood Quay Dublin 8 Ireland
Description
Our workshop is hosted by Tech For Good Dublin as part of Startup Week Dublin. We're offering founders and developers practical steps to keep their body, mind and spirit in gear. Being involved with a startup is a rollercoaster. It can be an amazing experience – you're on a steep learning curve and there's the buzz of creating something you believe in. But as well as the highs there are the lows. You may be under lots of pressure, working from dawn to dusk without structure and feeling the pressure to be always 'on' social media. It's easy to fall into habits that start impacting your own health and your startup.
During this workshop you'll be guided by expert wellness entrepreneurs who are on a mission to coach others on how to stay full of energy and focus. We are offering you a code to help beat the startup blues which involves Sleep + Meditation + Stretching! No prior experience or special clothes or equipment is needed. Just come as you are.
Treasa Spragg (LinkedIn, Revolution Project)
Treasa Spragg is a sleep guru who is on a mission to help startup founders and entrepreneurs face every day with boundless energy and with their minds fully in gear. How? By bringing it all back to the basics of great quality and great quantity sleep to power people through their days without energy slumps or a vat of coffee! You'll learn what happens when you close your eyes at night, what night time rituals you can adopt, where your smartphone isn't helping you, how your Netflix habit is killing your creativity and output the following day and where those cups of coffee fit into all this. Treasa co-founded Revolution Project Ltd three years ago, a wellness company aiming to "revolve" how people view their health and well-being.
Colm Fallon (LinkedIn)
Colm is founder of Project One Sky, a wellbeing startup for schools, and aims to bring meditation to as many people as possible using a secular approach. He will talk about the benefits of meditation and give a short demonstration. Paul focuses on the benefits of meditation not only for the individual, but as an antidote to the current set of crises we now face, using science to demystify ancient wisdom systems.
Emilia Krysztofiak (LinkedIn)
Emilia is a sought after photographer, who works with global tech companies, multiple agencies and entrepreneurs on their online brand's identity. To help keep balance in her own life she studied and started teaching yoga and meditation. She will share practical yoga exercises that you can do sitting at your desk at work that address the damage caused by being scrunched over your laptop for long hours. She leads classes in Dublin for corporate groups and in a small yoga studio in IFSC.
Our workshop is the perfect way to end Startup Week Dublin on a high!