Description
After a cyber attack, the half-life of the breach continues to wreak havoc on the reputation of a company, draining brand value, customer perception, and inevitably profits. Collateral damage associated with cyber attacks in 2017 will surpass loss of information, security, and privacy. The new façade of cyber damage lingers far past the breach and response.
Responsibility to protect brands from cyber threats extends beyond CISOs, CTOs, and CIOs. CMOs must also prepare to defend their brand and company with dynamic tools and strategies to combat almost inevitable cybersecurity events.
Zero Day Con, in partnership with Strategic Cyber Ventures, is bringing together global experts to discuss security architectures and strategies for protecting brand reputation. Join us on October 26th 2017 in New York City to address cybersecurity as one of today's most challenging marketing, IT, and overall business topics.
Gain unique insights from industry experts on managing and mitigating the cyber risks at the C-Level and beyond
Learn how to develop a proactive strategy to defend against evolving cyber attacks
Crisis and strategic communications before, during, and after the breach
Connect with peers: significant networking opportunities for all professionals
Speakers: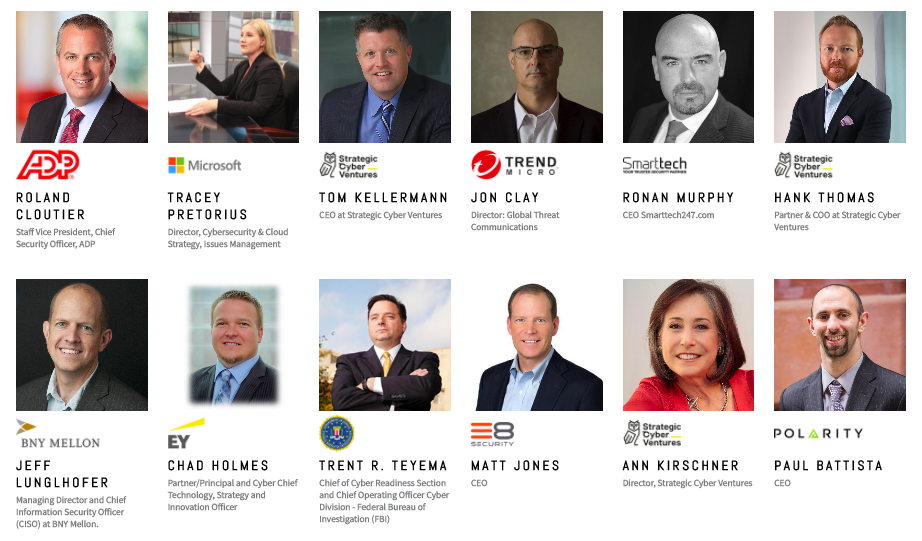 - Roland Cloutier, Staff VP, Chief Security Officer, ADP
- Tracey Pretorius, Director, Cybersecurity and Cloud Strategy, Issues Management, Microsoft
- Tom Kellermann, CEO Strategic Cyber Ventures
- Jon Clay, Director: Global Threat Communications, Trend Micro
- Ronan Murphy, CEO Smarttech
- Hank Thomas, Partner & COO, Strategic Cyber Ventures
- Jeff Lunglhofer, Managing Director and CISO, Bank of New York Mellon
- Chad Holmes, Partner/Principal and Cyber Chief Technology, Strategy and Innovation Officer, EY
- Trent Teyema, Head of FBI Cyber Division,
- Matt Jones, CEO E8
- Ann Kirschner, Director, Strategic Cyber Ventures
- Paul Battista, CEO Polarity
- David Lashway, Global Co-Chair Baker McKenzie
- Dave Coxe, CEO ID Data Web
- Moshe Ben Simon, Co-Founder and VP Services and Trapx Labs, Trap X Security
- Sean Weppner, Managing Director at Nisos Group
- Simone Petrella, CSO Cybervista
- JD Sherry, Chief Revenue Officer