About this Event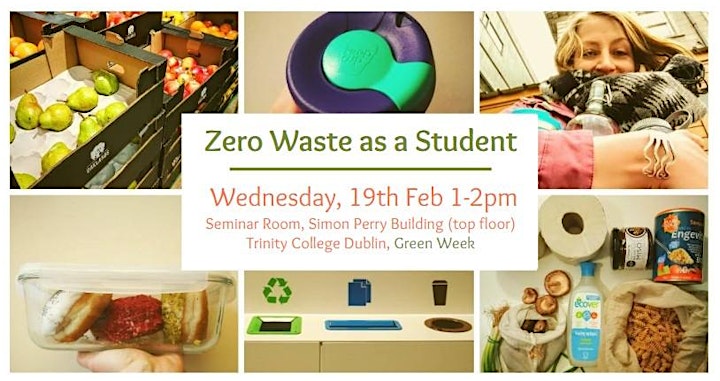 Want to get started with your Zero Waste lifestyle? Not sure where to find the best bang-for-the-buck without packaging? What are the smaller and larger Zero Waste hacks that help you in your daily routine as a student at Trinity?
Come along to this informal lunch-time presentation and discussion on how to make (many) small steps towards a more sustainable Zero Waste / low impact / conscious consuming lifestyle. Camilla Roselli and Celia Somlai from the Zero Waste Festival Ireland team will share plenty of their practical (and cost effective) tips with the focus on living in Dublin as a Trinity student. However, most of the tips will be also useful even if you are NOT a Trinity student! Academic and non-academic staff is welcome as well!
You can find us in the Seminar Room on the top floor of Simon Perry Building, tucked in right in between the Rugby Pitch and the new Business School. There will be signs from the ground floor leading you to the room. Also, feel free to bring your lunch along (in your own reusable container, of course). We have a microwave there as well, so you can warm up your food.
Find out more information on our website: https://www.zerowastefestival.ie/pop-up/zero-waste-pop-up-tcd-green-week/