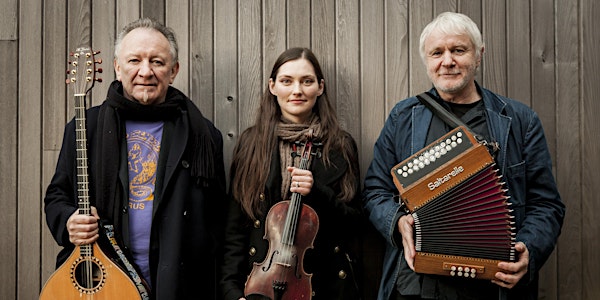 ZoDoMo (Zoe Conway fiddle . Dónal Lunny bouzouki . Máirtín O'Connor accordion )
When and where
Location
Moville Presbyterian Church Glencrow Moville Ireland
Description
ZODOMO
three of Ireland's greatest traditional musicians
Zöe Conway fiddle . Dónal Lunny bouzouki . Máirtín O'Connor accordion
Described by critics as a "trad music supergroup", ZoDoMo is the latest highly acclaimed traditional Irish group to step into the limelight. The trio features three of Ireland's eminent musicians, Zoë Conway, one of the country's most gifted virtuoso musicians who is equally at home in both traditional Irish and classical styles. Dónal Lunny, popularly regarded as having been central to the renaissance of Irish music over the last three decades and Máirtín O'Connor, a master musician whose dexterity and innovation has won him worldwide acclaim.
"(ZoDoMo) achieves the near impossible: capturing the energy of a live performance in studio, fuelled by a heady (and deliciously unpredictable) mix of traditional and spikily original tunes, along with a smattering of covers. The title tells it like it is: In Full Sail – Faoi Lán Seol is a magical snapshot of three musicians flying fast and high on the momentum they have conjured with apparent effortless ease." Irish Times
"A masterclass in musicianship" Irish Music Magazine
ZOË CONWAY
Zoë Conway effortlessly combines a background steeped in Ireland's rich aural music tradition with a strong founding in classical music. She has toured worldwide and has appeared in many prestigious concert halls including Carnegie Hall and The Kremlin Palace. Her versatility as an instrumentalist has allowed her to perform across a broad range of genres, from guest soloist with world renowned orchestras, to touring with Riverdance and working with mainstream international acts such as Rodrigo y Gabriella, Damien Rice, Nick Cave and Lou Reed among others. She has released two critically acclaimed solo albums and a live DVD. Zoë tours regularly with her husband, John Mc Intyre on guitar, described as "simply one of the best folk duos on the planet". BBC
"Virtuoso - one of Ireland's most gifted young musicians." The Irish Independent
"A burnished tone and a commanding technique." The Washington Post
DÓNAL LUNNY
A gifted guitar and bouzouki player, composer and producer, Dónal Lunny is a figurehead of Irish traditional music and a household name in the Celtic music scene. He has been at the forefront of the evolution of Irish traditional music for more than 35 years and is popularly regarded as having spearheaded its renaissance over the last three decades. Since the seventies, Dónal has founded legendary seminal Irish bands, Planxty, The Bothy Band, Moving Hearts, Coolfin and more recently Mozaik, Triad, Usher's Island and Atlantic Arc Orchestra. Much sought-after in studio, he has produced albums for artists such as Kate Bush, Baaba Maal, Paul Brady, Indigo Girls and Clannad.
"...remarkable musical genius." Hotpress
"...virtuosic...exceptional world music maestros." World Music Central (on Triad)
MÁÍRTÍN O'CONNOR
Regarded in the folk firmament as something of a national treasure, Máirtín O'Connor's name has been synonymous with the accordion for decades both as a master of the instrument and as a composer/arranger. His skill, dexterity and innovation has won him acclaim around the world both as a driving force behind the Riverdance phenomenon, as a member of De Dannan, and for more than a decade as the Máirtín O'Connor Band with Cathal Hayden and Seamie O'Dowd. Máirtín has composed for theatre, television and film and has been a session and guest musician on many recordings by international artists such as Rod Stewart, Elvis Costello and Mark Knopfler. Máirtín O'Connor Band performed at the Copenhagen Koncerthuset for WOMEX '11.
"Máirtín O'Connor is a squeeze box player in the very top echelon." Irish Music Magazine
"..a joy, his original compositions offering an Einsteinian facility to surprise and delight." Irish Times
SUPPORT ACT:
CINEAL -a new ten piece group of young musicians from Inishowen.
Concert starts at 8.00pm
Doors open at 7.30pm