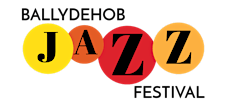 Ballydehob Jazz Festival
Since its inception in 2007, the Ballydehob Jazz Festival has grown in stature and standard due to its commitment to a first-rate and varied programme of events.  Over the years this off-beat little hamlet has hosted a string of extraordinary musicians and performers that include award-winners, child prodigies, Irish legends and pop stars such as Liane Carroll, Andreas Varady, Paddy Cole and Camille O'Sullivan, to name-drop but a few.  Each May Bank Holiday weekend sees over 40 performances that range from big name concerts to small workshops; from lively pub gigs to intimate side shows and a healthy dose of fringe attractions to compliment.
It is perhaps no wonder that such an amazing event emerged out of this improbable corner of the world.  Ballydehob in West Cork has long been a mecca for artists from all over, creating a unique community where the traditional and the alternative sit shoulder to shoulder at the pub counter.  In the same way,  this festival cozily combines lively swing and dance hall classics with smooth contemporary and hard hitting fusion jazz, culminating in a whole lot of world class talent couched in a pretty little country village.
Sorry, there are no upcoming events