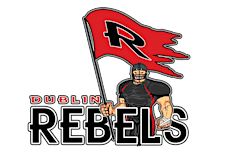 Dublin Rebels American Football Club
The Dublin Rebels were founded in the summer of 1995. They entered the Irish Flag Football League with a squad of 10 players, where they received the Best Newcomers Award for the 1995-96 season. Finishing 3rd in 1996-97 and going on to lose a closely fought final in 1997-98, placing them 2nd, the Rebels continued to improve with the squad size growing all the time. This led to the addition of a second flag team to the club.
The following season 1998-99 was the beginning of the full contact team. As planned our two flag teams combined as one and we managed to play one season in the full contact league of Ireland before the demise of the league. We managed a mid table finish in our first full contact season picking up four wins.
American Football was not played again until the winter of 2001. Since the reformation of the league, the Rebels have won 8 Shamrock Bowls, 2 European Trophies and 7 League Titles. The Rebels were the first team in the modern era to have obtained a perfect season picking up the League Title and Shamrock Bowl, winning every game that season (2006). The Rebels went on to complete this feat for the 2nd time in 2010. In 2016 the Rebels won their 8th National Title and are the current reigning all-ireland champions.
Our average squad size each year is now 45 players approx. If you would like to join the Rebels in a playing/non-playing capacity please contact accounts@dublinrebels.com
Sorry, there are no upcoming events