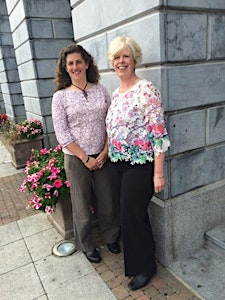 Jenny Hale, Karina Kerrigan
Doggrooming.ie came about as an umbrella name to cover the dog grooming training offered by two friends who independently run highly successful dog grooming salons.
Scruffy Pups dog grooming salon in Co. Kildare is run by Jenny Hale.
Woofters dog grooming salon in Newcastle Co. Dublin is run by Karina Kerrigan.

Their grooming salons provide full professional dog grooming services, be that clipping and styling, handstripping or scissor trims.

Over the years Jenny and Karina have both endeavored to follow a path of ongoing education. They have both attained the highest qualifications possible in their dog grooming careers including a Teaching Certificate with NUI Maynooth. They have also had the honor of been awarded Licentciateship of the City & Guilds of London Institute (LCGI).
They have been successfully guiding grooming students along their chosen career path since 2003. They provide an intensive dog grooming course, where a student can learn dog grooming in a real grooming salon environment. Many former students have gone on to open and run successful businesses of their own. Some have also competed and been placed in the prestigious Irish Grooming Championships or completed their City & Guild Level 3 Certifications.

Always looking to improve their knowledge in the canine world, in May 2009 they took part in the first Canine First Responder course held in Ireland.They felt this course was must for anyone with an interest in dogs,whether working with animals or an avid dog lover. As a result they completed the Instructor Course so that they could provide this one day Canine First Aid Course.
Professional Progression Acadamy is the brain child of Doggrooming.ie tutors Karina & Jenny. We are always looking at ways of helping and encouraging our students to progress on their career pathway. Entering grooming competitions or working through qualifications is an ideal way to keep refreshing skills and technique's that can easily become dull in the daily work in the salon. Either of these steps can seem quite daunting so we were thinking why not have a workshop within the competition environment as a stepping stone -  so the PPA came about.
We had our first offical event at the IPDGA Championships 2015 - we invited groomers to particapate in a workshop that ran along side the Clipped Class on the sunday morning. It was a great success with plenty of helpful feedback on hand for the participants who each had their own goals to achieve from the day. We look forward to repeating this workshop at the 2016 IPDGA Championships.

We plan to host some further workshops and are also availabile on a consultancy bases to help with anything that can arise whilst operating a salon from time managment to growing a steady clientle or grooming skills related help.
Sorry, there are no upcoming events