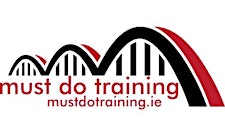 Must Do Training
Quality, Mandatory Training!
At Must Do Training, we specialise in providing quality, mandatory health & safety training.
Since 2015, we have been delivering Safe Pass courses on a weekly basis in Galway, Mayo and Dublin, with courses also delivered in Sligo and Kildare from time to time. 
Experts in Solas Safe Pass Galway, Solas Safe Pass Mayo, Solas Safe Pass Dublin, Manual Handling, Abrasive Wheels, CSCS Signing, Lighting & Guarding at Roadworks, CSCS Locating Underground Services
Please visit our website or call us on 01 902 3420 for bookings or with any queries.
Sorry, there are no upcoming events