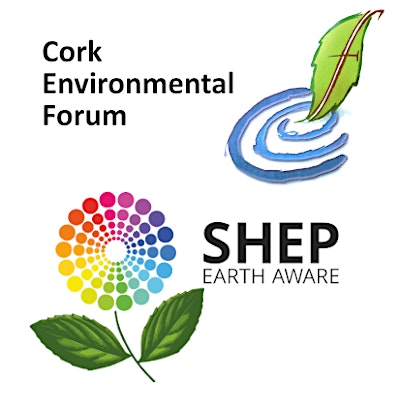 SHEP Earth Aware and Cork Environmental Forum
SHEP, the Social Health Education Project's overall vision is of "a socially just world, where all people live in dignity, where we cherish and celebrate each other and ourselves, and where the integrity of the earth is honoured." SHEP Earth Aware seeks to contribute to implementing that vision, but with a particular focus on "earth awareness".  The need for "earth awareness" has come to the fore especially because of the realization that the web of life is being seriously damaged by human beings' unsustainable lifestyle, and the related realization that while this will affect us all, it is already causing enormous suffering for many of the poorest people on earth, people who have done least to bring about the problem.

Cork Environmental Forum (CEF) set-up in 1995, inspired from the Rio Earth Summit of 1992. CEF's  vision is for a sustainable world which prioritises and protects environmental quality, habitats and biodiversity, where consumption and economics take cognisance of the limitations of our one planet and where there is a fairer and more equitable share of the earth's resources. CEF works from a Local Agenda 21/ Agenda 2030 ethos fundamental to this is to facilitate the involvement of all sectors of society. We reflect this in our structure by having representation at management and membership levels from the Public, Private, Community & Voluntary sectors and Individual interest.  Raising awareness, providing information and opportunities to engage in activities that support the achievement of Agenda 2030 Sustainable Development Goals (2015) is a key feature of our work and is particularly relevant in the delivery of the Global Action Plan Greener Living Programme Participation, awareness and education about sustainable development and how communities can be part of the process are on-going elements of all of CEF activities and actions. We strive to bring an environmental perspective to policy and work in collaboration with a broad range of partners, valuing connections and relationships, in order to engage more people and communities and all sectors to work with us to protect and care for our environment.