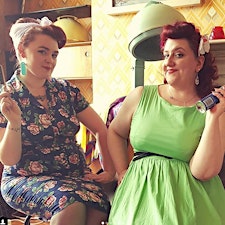 The Brush Out Bombshells
The Brush Out Bombshells, DialEmma & Ruby Noir, are here to solve all your vintage hair woes.
The Brush Out Bombshells workshop was created by DialEmma and Ruby in response to repeated requests from friends and aquaintences. They've spent hundreds of hours watching tutorials and reading beauty magazines from the 1930's, 40's and 50's. They have distilled their combined knowledge into a workshop which delivers the fundamentals of vintage hairstyling from tools and products to techniques and styling. Passionate about authentic vintage styling, the Bombshells want to share their knowledge so that the fun and glamour of vintage style is available to anyone who wants to try it. Get that perfect style for a big event or add a vintage twist to your every day look. DialEmma and Ruby are here to show you that it's as easy as putting a pin in it.
Since launching in 2018 they have taken The Brush Out Bombshells around Ireland and Europe, spreading the good word of great hair.
DialEmma has been shaking her tail feather on the Dublin cabaret, drag and burlesque scenes since the year 2000. On stage she's a showgirl, a pin up, a faux queen and all around funny lady. She is the a founder and producer of UnderCURRENT, a finalist of Miss Pinup Ireland 2017 and second runner up Miss Burlesque Ireland 2018, 2019
Chanteuse with the Caboose and cabaret dilettante, Ruby Noir has been making a nusience of herself on the scene for over 10 years. A singer, compére, and burlesque & cabaret artist, Ruby will try it if you giver her the chance.
Ruby was Miss Pinup Ireland 2017 and first runner up Miss Pinup International 2017. She is one half of acoustic duo Lady K & Ruby Noir an original cast member of queer cabaret troupe UnderCURRENT.She can always be found with a show tune in her heart and a sequin (or a hundred) on her sleeve.
Ruby and DialEmma also co-host the Giving Me Life Podcast, along with Lady K and a range of guests, where you can hear them go on about pop culture old and new and occasionally, hair.
Sorry, there are no upcoming events