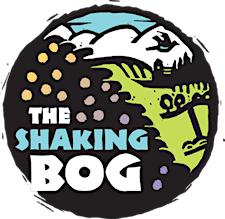 The Shaking Bog Nature Writing Festival 2019
The inaugural SHAKING BOG festival of nature writing will take place in the Glencree Valley, County Wicklow on the weekend of June 22nd & 23rd, 2019.
The first of its kind in Ireland, the festival will celebrate the natural world through literature and will feature a number of national and international guests including best selling award-winning nature writer and farmer John Lewis-Sempel, poets Pascale Petit and Paul Durcan, Carlo Gebler and a host of others.
There will also be a number of outdoor events including a wildlife camerawork masterclass with acclaimed cinematographer Theo Jebb, a nature trail led by author and naturalist Declan Murphy, a rehearsed reading of JM Synge's In The Shadow of the Glen (introduced by Prof. Nicholas Grene), and a special family day - in association with our partners Fighting Words - which features a range of activities and workshops and a special appearance by the author of the Darkmouth series, Shane Hegarty.
A special tribute is also planned for the Wicklow-based poet Shirley McClure who died recently, with readings and contributions by poets Jane Clarke and Katie Donovan.
The festival will conclude with a celebratory concert in St Kevin's Church, Glencree featuring classic readings from nature writing and musical contributions from Liam O'Maonlai, Mary Coughlan, The Square Pegs, Flo McSweeney, the Fugato Quartet and others.
Please buy tickets, immerse yourselves and help us to make The Shaking Bog an enduring success.
Advice: Come appropriately dressed for the outdoors with sturdy footwear, sunscreen, hats, waterproofs and insect repellent. If it's overcast then sleeves and full length trousers are advised on account of midges. 
www.shakingbog.ie
Tickets: 
Full price tickets available on Eventbrite
CONCESSIONS: OAPS, STUDENTS & UNWAGED still available. Proof of eligibility required on the day. 
15% Discount tickets now SOLD OUT
Walk up tickets on the day: Tickets can be purchased on the day on a first come first serve basis. CASH ONLY 
ANCILLARY EVENTS
Due to the high demand for events - we have included some exciting late additions to our programme;
STRAW BOYS - Glencree Centre Saturday 22nd, 8.45 approx. Free
Shaking Bog welcomes the local Straw Boys to Glencree on Saturday night, for some fireside music and dancing. Party pieces might even be welcome.  'Limited availability on a first come first serve basis' 
*Immediately following Pascale Petit & Paul Durcan.
MAGIC OF MOTHS - Knockree Hostel Sunday 23rd, 8.15 - 9.15am Free
A fascinating opportunity to engage with the magical world of moths. A rare opportunity to see and learn more about them at close quarters - with local naturalist Kieran Finch.
*This event will end in time for the nature trail with Declan Murphy
Sorry, there are no upcoming events