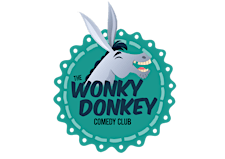 The Wonky Donkey Comedy Club
The Wonky Donkey is Cork's newest comedy club, hosted every Friday by Mike Morgan.
We will be bringing the best talent from the Irish and UK comedy circuit to our stage. Our package deals include either finger food platters, or a two or three course feast from Holy Smoke, which is connected to the venue and represent unbeatable value. Get ready to eat, drink and laugh your ass off at The Wonkey Donkey Comedy Club.
Sorry, there are no upcoming events