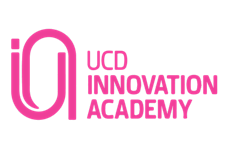 UCD Innovation Academy
UCD Innovation Academy's mission is to provide a transformational education experience for the betterment of society and the economy. We shape creative minds capable of launching new ventures.
UCD Innovation Academy designs, tests and scales world-class experiential education programmes that unlocks creative confidence and fosters an entrepreneurial mindset in learners of all levels. Since 2010, our international team of entrepreneurs and academic staff have worked with over 5,000 learners across the world. 
Find out more at www.innovators.ie/
Sorry, there are no upcoming events