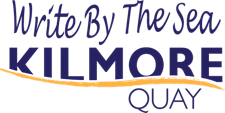 Write By The Sea, Kilmore Quay
Write By The Sea , Kilmore Quay Literary Festival is back from Wednesday 22nd to Sunday 26th September 2021. Although virtual, our festival events will still retain that intimacy, friendliness and sense of fun that is the hallmark of our festival.
Write By The Sea stages an annual literary festival set in the intimate fishing village of Kilmore Quay, Co Wexford, Ireland. We offer a platform for established and emerging authors to explore and explain the process of writing for keen readers and would-be writers. We also offer monthly workshops and master-classes with leading authors, as part of our Room to Write Series. Like many other festivals worldwide, Write By The Sea is adapting to the challenges posed by Covid-19 and our Room to Write series has become the Zoom Room to Write series.
If you would like to stay up-to-date on the events that we are offering, follow us on facebook and Twitter and view our website at www.writebythesea.ie. If you send an email to us at festival@writebythesea.ie we will add you to our mailing list. Stay safe everyone - keep writing and remember to support your local bookshop.