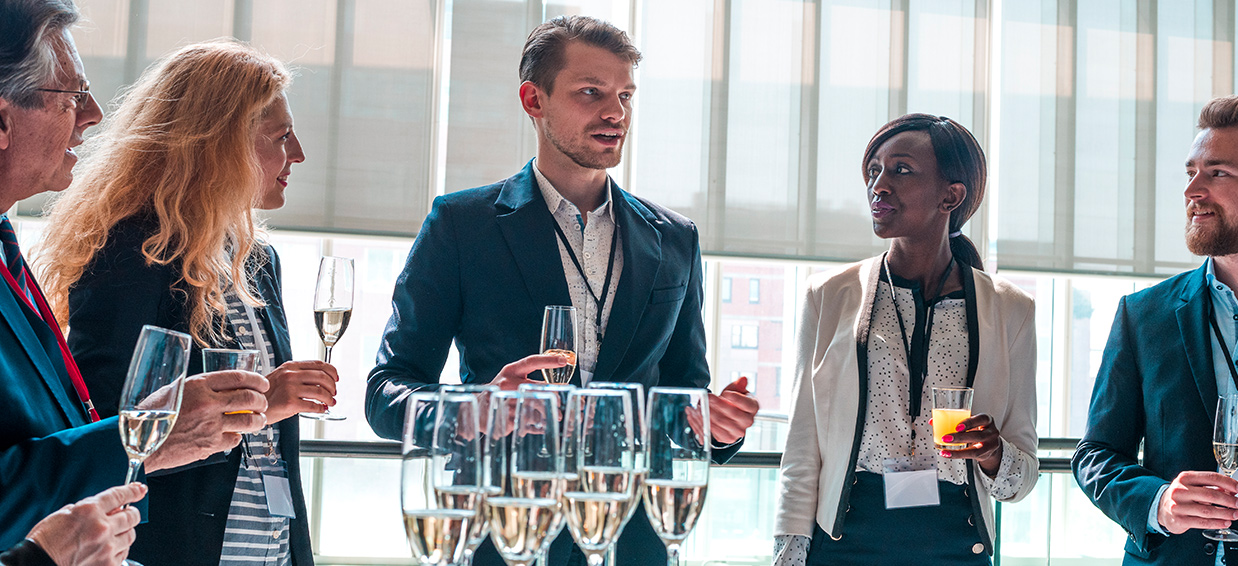 15 Creative Entertainment Ideas for Your Next Corporate Event
Looking to make your next corporate event the most memorable one yet? Booking the right entertainment is vital if you want to take your event from good to great — and to put on a show that everyone will be talking about for years to come.
The best entertainment ideas for your event will integrate seamlessly with your venue, theme, and goals. And with event-goer's expectations rising every year, the right entertainment can help you impress attendees with an unexpected experience.
To help you get inspired, here are 15 creative corporate event entertainment ideas:
Entertainment idea #1: Interactive food and drink stations
Imagine the delight attendees will feel as they discover multiple interactive food and beverage stations dotted throughout your event. From a customisable champagne cocktail bar to a live pizza or smoothie station, there are plenty of creative ways to feed your attendees and wow them at the same time.
Entertainment idea #2: Social photo booths
People have enjoyed taking photo booth selfies since 1925 — and that hasn't changed in the past 93 years. What has changed? The technology that powers them. Today's social photo booths make it easy for people to take photos, videos, or GIFs, and share the images straight to their social media accounts.
Entertainment idea #3: Customisable "swag" stations
People love free stuff, but only if it's actually something they want — most giveaways end up in the trash can because they're not useful. A station where attendees choose what they want is a surefire way to send them home with promotional material that they'll actually keep.
Entertainment idea #4: Contests
A little friendly competition can liven up your corporate event in no time. Some fun ideas include a scavenger hunt, caption contest, or even a pub-quiz-style trivia game focused on questions about the business.
Entertainment idea #5: Corporate comedian
A corporate comedian keeps the language clean and the topics business-related, poking fun at the many facets of working life that border on the ridiculous. Look out specifically for someone who specialises in corporate gigs to make sure your comedian doesn't cross the line into offensive.
Entertainment idea #6: Magician
Thanks to performers like David Blaine, magicians and illusionists have gone from birthday party entertainers to professional performers. A magician will awe and inspire your guests with mind-bending tricks — either as a full stage show or performing close-up magic for small groups of attendees.
Entertainment idea #7: Cirque show
Like magic, the circus arts have undergone an image overhaul, too, thanks to acts like Cirque du Soleil, which have elevated the art form to an immersive experience. Add some of that mystique to your own event by hiring contortionists, acrobats, and aerial performers.
Entertainment idea #8: Caricaturist
Caricaturists are always a hit at any event — but take it up a notch by choosing an artist who is high-tech. Caricature artists can use tablets to draw, and project their drawings onto large screens in real-time at your event for maximum entertainment and engagement.
Entertainment idea #9: Graffiti artist
Witnessing a work of art on a large scale is pretty exciting, so if you have the space for it, consider bringing in a live graffiti artist to do a mural during your event. Attendees will be able to watch its progress and the artwork will serve as a conversation piece. If your event includes a raffle, this is a great prize to send the highest bidder home with.
Entertainment idea #10: Breakdancers
Want to amaze and energise attendees? The jaw-dropping moves of a bespoke breakdance performance are just the thing. Breakdancers are professionals when it comes to getting people out of their seats and engaged.
Entertainment idea #11: Cover band
If your corporate event is working on a theme, choosing a cover band to provide the entertainment that suits your event is a great way to go. Your attendees will love hearing their favourite classic songs and the energy will stay high thanks to a live performance.
Entertainment idea #12: Celebrity impersonators
Depending on your theme and corporate event type, a celebrity impersonator could spice up your evening. These actors and entertainers are skilled at livening up an event, either mingling with the crowd or putting on a show. 
If your event is for employees or people familiar with the company, you could also hire an impersonator to mimic your CEO. Just make sure you get their permission in advance though!
Entertainment idea #13: Casino
Setting up a casino at your event with slot machines, and professional croupiers is an easy way to provide entertainment for attendees. Opt for a rental service over DIY to save yourself the trouble of buying all the supplies and learning the rules beforehand. Being a dealer isn't as easy as it looks!
Entertainment idea #14: Duelling pianos
Duelling pianos is exactly what it sounds like: two pianos on a stage, each played by professionals who sing and entertain your crowd. This idea requires a lot of space, but will definitely get your attendees laughing and having a good time. As a bonus, once the duel is over the pianists can accompany singers in a classier version of karaoke.
Entertainment idea #15: Fire performers
Whether it's a fire-eater, dancer, or juggler, fire performers can add a bit of sizzle and drama to your event — not to mention being Insta-worthy. Capitalise on all the social media shares this act will prompt and make sure your event hashtag is posted everywhere! Just be sure you've gotten approval from your venue beforehand.
Getting creative with your budget
Don't want to fund all of these entertainment ideas on your own? That's where sponsors come in. Find out how to involve sponsors in your event's entertainment in The 2019 Guide to Event Sponsorship.