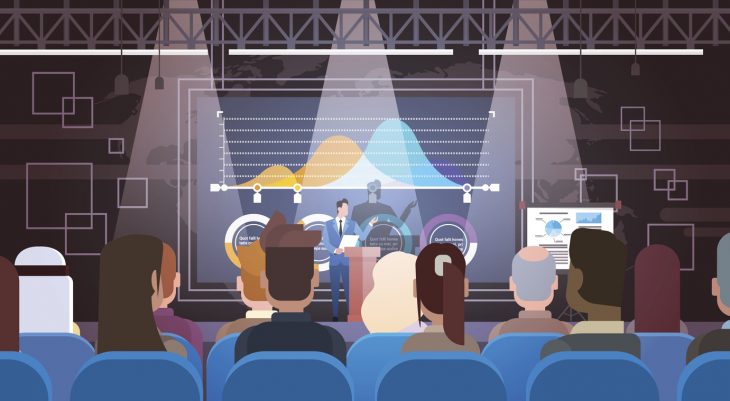 Use Events to Supercharge Your Lead Generation Strategy
This is a guest blog by Aoife O'Mullane. Aoife is a freelance writer and marketing consultant with a passion for content and storytelling. Aoife specialises in social media, B2B marketing, branding and travel. She has worked at LinkedIn and a number of digital agencies where she partnered with leading technology, media and education brands to enhance brand awareness and drive engagement online.
People like to buy from people. Whether online or in person, events offer the opportunity for customers and prospects alike to interact with your brand. Getting face-to-face with potential customers can be a powerful method to accelerate pipeline momentum and drive increased revenue. It also provides the perfect forum to strengthen existing customer relationships and unlock opportunities for cross-sells or up-sells.
Live events are an effective means to accelerate your sales cycles by warming up your prospecting efforts and bringing a human element to your brand. These events can come in many shapes and sizes, but it's important to keep the value exchange front of mind.
If people are willing to hand over their contact details and take time out to attend your event, there must be something in it for them. Thought-leadership sessions, webinars, workshops and round-table discussions are effective event formats when your ultimate goal is lead generation. They provide a compelling medium to facilitate engagement, build trust and generate high quality leads for your business.
Here are our top tips to maximise the lead generation opportunities being produced by your events and drive ROI for your business.
Find the right attendees
You need to start generating excitement for your event well in advance. This involves a pre-event content plan that will showcase the value of your event. It's crucial to use this time to attract the right people. Build out your ideal attendee persona, research where they hang out online and how you can target them with the right message. You need to know exactly what you want to get out of your event and build a solid targeting strategy to get the right people involved.
People don't convert on the first interaction, so it's important to generate awareness and excitement in the lead up to your event. Give yourself enough time to promote the value of your event and your potential attendees enough time to plan and register.
Get to know your attendees before you meet them
There are two things to consider when creating the registration process. First of all, the experience must be seamless to maximise conversion potential. Long page loading times or lack of mobile optimisation can cause you to lose potential customers.
Secondly, it's crucial to use the registration process to collect the right information. This is a delicate balance. Too many form fields can be a deterrent, so make sure you're only asking for the information that you need. Knowing who is in the room is the most important step on the way to a successful event.
Eventbrite's Custom Questions feature allows you to tailor questions for your attendees to extract the most valuable data. Being equipped with the right information not only helps you to customise the event experience, it also means your sales team can easily identify the strongest leads to nurture post-event.
Make your content relevant to your audience
Research your event attendees and customise the content accordingly. Look at the industries, companies, roles, and seniority of the people attending and make sure your content is relevant to them. No matter how much content you're creating or what the content is, it's always important to keep your value proposition front of mind. Think about the reasons your prospects want to attend your event or sign-up to your webinar and channel this into your messaging. You want people to walk away with actionable advice and to feel like you have brought value to their professional lives. This is your chance to establish yourself as a trusted advisor. Getting this right will make it easier to sell in the long run.
Set benchmarks for success
What does a successful event look like to you? Document your target number of event registrations and your target number of leads. Calculate your target cost per lead. Setting solid KPIs gives you something to benchmark performance against and measure success more effectively. Events are rarely a cheap option to pursue. They can be costly and require a lot of resource and time. With marketing budgets being constantly stretched, you need to have benchmarks in place to justify this cost and demonstrate the real business impact that your event is having on your sales pipeline.
Plan your follow-up strategy before the event ever begins
Having a solid post-event plan to nurture your event leads is a critical step in your lead gen strategy. Post-event communications are key to keeping the conversation going and maximising the impact of your investment. You need to be strategic in how you work with your sales team to maximise event ROI. Time is of the essence here! Prompt follow up is the key to delivering a successful ROI generating event.
Delaying this step is a sure fire way to lose out on potential new business. In order to truly align with your sales team, you need to know how to talk the language of sales and communicate your strategy effectively. For example, instead of talking about the number of attendees registered, talk about the potential value of the people in the room. Make sure you have a clear follow-up process in place to drive event leads through the sales pipeline and meet your ROI goals.
Conclusion
Events are an effective way to secure new business, so make sure you have a carefully constructed plan to capitalise on the lead generation potential. This plan should be centred around data, a tailored content strategy, and a solid nurture programme. It also involves getting buy-in from the rest of the business, so it's important to demonstrate your commitment to driving revenue by sharing your strategy and conducting a post-event wrap up to detail the results.
Getting this right is a constant learning experience, so make sure to record what worked and what didn't to continually optimise your strategy. You'll soon be transforming your events into powerful lead gen machines that drive real business impact. Download our Eventbrite Organiser app and get started!