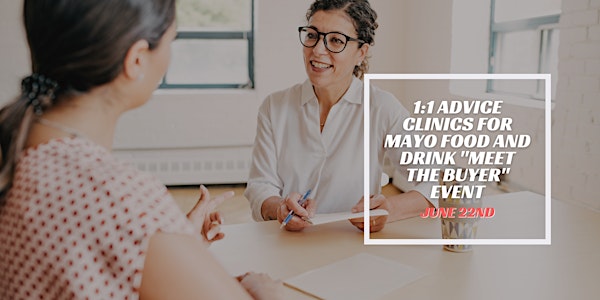 1:1 Advice clinics for Mayo Food and Drink "Meet the Buyer" Event
Today you can speak directly with Aisling Roche, a County Mayo food producer, who has successfully secured product representation in retail.
About this event
1:1 Meet the Buyer Advice Clinics
Have you aspirations to sell increased volumes of your food / drink product?
Have you any last minute questions about how you present and pitch your product to buyers ?
How might you anticipate questions and prepare to answer these ?
Are there specific questions you have in relation to attending the meet the buyer event in June?
Sign up today and secure a one to one session with Aisling Roche (Velvet Cloud and ARMS Marketing) who will guide you to the best way to ensure your food/ drink product is noticed and you, the artisan, are prepared to do business and close the deal with intereted buyers.
Upon registering your interest, someone from Mayo Food and Drink will contact you to make a specific appointment for your 1:1 with Aisling. Places are limited for this opportunity, so book early!
Advice clinics available to Mayo based Food and Drink clients ONLY