Ladies Only - Online Supportive Workout & Wellness Community
About this Event
Would you like to feel better in yourself?
Would you like weight loss & toning results?
Would you like some Self-Care Time Out?
Be part of an online supportive community?
" TAKE THIS AS YOUR SIGN TO FINALLY FEEL BETTER "
LEAN30 is all about community and it really is for every woman no matter where you are at with your fitness level.
I pride myself in offering classes that all women at any fitness level and age will feel comfortable doing.
LEAN30 provides 30min workouts and wellness workshops to help you achieve great weight loss & toning results! Workouts and workshops can be done live or catch it later.
Being part of LEAN30 Wellness feels like having your own private Wellness Studio Online .
The support and cheerleading from each members is so motivating to watch !
What makes LEAN30 different ?
You get support every step of the way by LEAN30 Trainers, Members and Mentors.
Every Member gets " A Welcome Call" after sign up. This is where we make it personal. Korina our head Trainer who has over 15 years experience will personally guide you to where to start and map out a plan to suit your goal.
Instantly message your trainer during each live workout.
No Zoom Workouts for extra Privacy.
Our wellness workouts are delivered live in a private FB group everyday Monday - Friday.
Workout replay anytime and anywhere.
Fortnightly Challenges
Selfcare Workshops.
Huge Discounts to enter Food & Mindset Courses.
T&C'S
New members Only
6 Weeks ends , 6 weeks after the day of purchase.
Must have a FB account.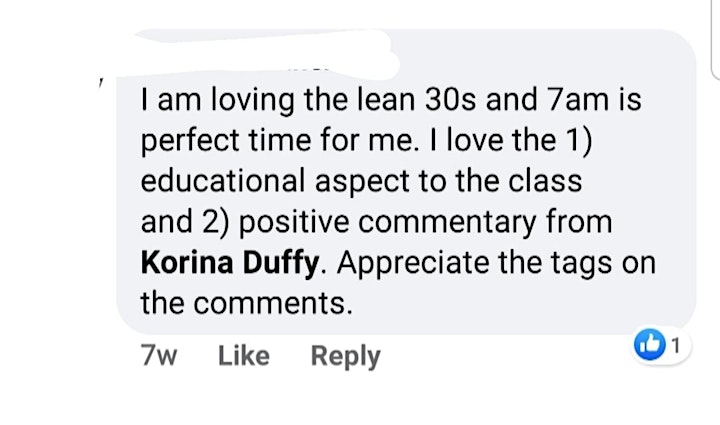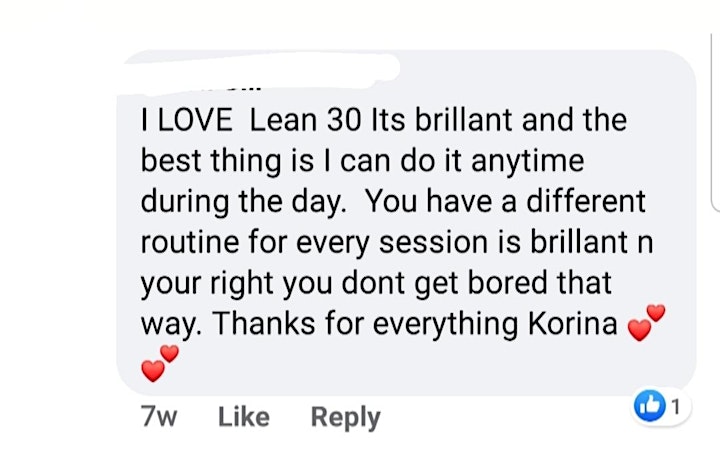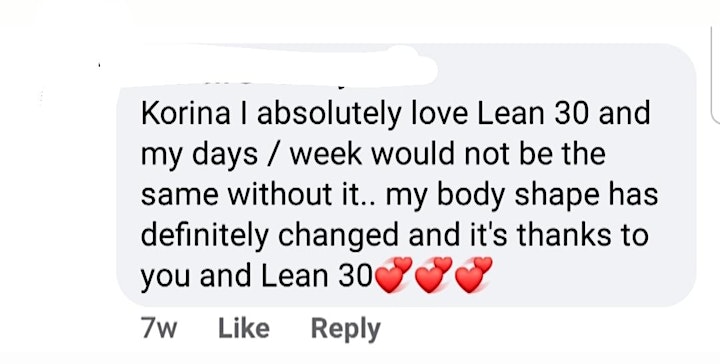 FQAs:
Do I need a Facebook Account to access the group? Yes, you will need a FB account to access the group.
Can I catch the replay? Yes, the reply can be found that day under " Announcements section on the group"
Can I watch back all post workouts? Yes, you will find all past workouts under the "MEDIA" Section if viewing FB on your laptop.
If viewing FB on your phone, you can view past workouts under a new section called " TOPICS" not all past workouts are in the section yet as it's a new feature on FB Groups.
Can I save workouts to watch again? You sure can. Press the 3 grey dots on the right hand side under the video to save the video to your own library. You will be able to watch the video back again by going to your " saved videos" under your own FB settings.
What support do I have? With LEAN30 being "follow along virtual classes" I am fully aware that you want to feel part of a team even virtually. My team members and I pride ourselves on fully supporting all members to the best of our ability.
This is why booking into your Welcome Call and also coaching calls every 12 weeks. It will be your chance to check in with Korina and ask any questions and plan towards your goal.
You can also leave comments under the video during the class asking for a different exercise option or just even to say "HI" to your instructor and other members