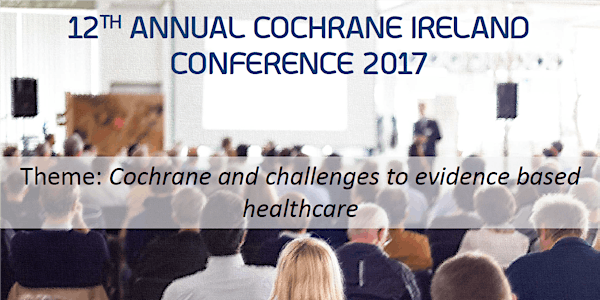 12th Cochrane Conference Ireland 2017
When and where
Location
Aras Moyola NUI Galway Gaillimh Ireland
Refund Policy
Contact the organiser to request a refund.
Description
THEME: COCHRANE AND CHALLENGES TO EVIDENCE BASED HEALTHCARE
*** ABSTRACT SUBMISSION NOW CLOSED *** [Deadline 31st March]
Sharing Health Evidence You Can Trust
Cochrane is a global independent network of health practitioners, researchers, patient advocates and others, responding to the challenge of making the vast amounts of evidence generated through research useful for informing decisions about health. We are a not-for-profit organisation with collaborators from 120 countries working together to produce credible, accessible health information that is free from commercial sponsorship and other conflicts of interest.
Cochrane Ireland aims to promote the use of Cochrane evidence across the island of Ireland and to support engagement with Cochrane at all levels. This initiative is being led by Dónal O'Mathúna, PhD, appointed as Convenor of Cochrane Ireland in 2014. This post is funded jointly by the Health Research Board in the Republic of Ireland and the HSC Research & Development Division, Public Health Agency in Northern Ireland.
This one day event will showcase just some of the best that Cochrane Ireland has to offer, including poster sessions of ongoing work and also international experts sharing their experiences in this area.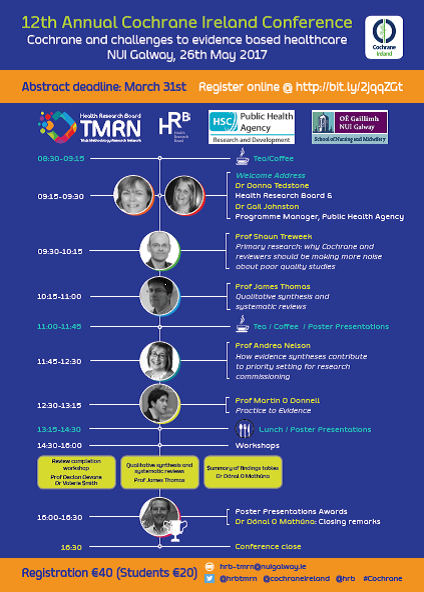 The HRB-TMRN offers free places to patient group representatives or members of the public who wish to attend. Please contact hrb-tmrn@nuigalway.ie for more information.
WORKSHOPS:
Summary of findings tables
Dr Dónal O'Mathúna, Convenor of Cochrane Ireland
'Summary of findings' tables are a way of presenting the main findings in a systematic review. The 2016 revised MECIR standards for Cochrane reviews make a summary of findings table mandatory. Protocols must state how many summary of findings tables will be included in the review, and which outcomes will be examined in them. This workshop will examine why summary of findings tables are viewed as important, describe the details of these tables, introduce how they should be planned in protocols, and examine how they can be produced using GRADEpro. Workshop participants will be given the opportunity to prepare a summary of findings table. To get most benefit from the time, participants should bring a laptop with GRADEpro installed (free from https://gradepro.org/). Those without laptops will be welcome to work in groups with those who have laptops.
Review Completion Workshop
Prof Declan Devane, Director HRB-TMRN
This workshop is designed to provide support to review authors who are working to complete or update their Cochrane review. Authors will be asked in advance of workshop to identify key areas in which they require support. Both workshop facilitators are experienced Cochrane review authors and have collectively completed dozens of reviews.
Qualitiative synthesis and Systematic reviews
Prof James Thomas - Associate Director of the EPPI-Centre. Professor of Social Research and Policy. Director of the EPPI-Centre's Reviews Facility for the Department of Health, England
Researchers, research commissioners, users and service providers increasingly value the insights that qualitative research can bring. There has been an accompanying increase in the number of new methods for synthesising qualitative research; 'meta ethnography', 'thematic synthesis', 'meta study', and 'meta aggregation' are just a few of the more commonly used terms. But how do these relate to one another? And how can you know which methods are more suitable for which tasks? This workshop will introduce some of the key concepts in the synthesis of qualitative research and contain practical sessions on the identification of findings, and the 'translation' of themes from one study into another.