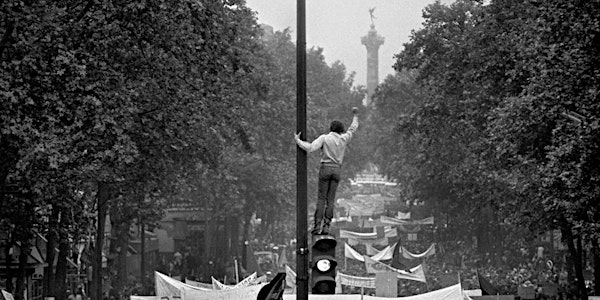 12th Ralahine Centre for Utopian Studies Workshop - Realising Utopia: 1968,...
Location
Ormston House, Cultural Resource Centre
9-10 Patrick Street
Limerick
Ireland
Description
Ralahine Centre for Utopian Studies Film & Lecture Series 2018

'All Power to the Imagination'

'Tout le pouvoir à l'imagination'

'Phantasie an die Macht'

12th Ralahine Centre for Utopian Studies Workshop

Realising Utopia: 1968, Then & Now

Ormston House, Saturday, May 26 @ 9.15am

Free Event. All Welcome!

Presented in partnership with the Umbrella Project Arts Organisation & Ormston House Cultural Resource Centre, & supported by the Goethe-Institut Irland, the Centre for Irish-German Studies at the University of Limerick.

12th Ralahine Centre for Utopian Studies Workshop

Realising Utopia: 1968, Then & Now

A day-long workshop focusing on the context and significance of the events of 1968, then and now, internationally and in Ireland. The workshop will explore the utopian dimensions of the student rebellions & protest movements of that year & their continuing & available 'utopian surplus' for on-going political movements.

Schedule

9.15 - Opening Address

Helen Kelly-Holmes, Dean, Faculty of Arts, Humanities and Social Sciences, UL

9.30 - 10.30 - Session I: The Relevance of May '68

Chair: Jeremy Leaman (Loughborough University)

Keynote Lecture: Gretchen Dutschke (Berlin) - '1968 in Germany: Memory and Legacy'

10.30 - Coffee Break

10.45 - 12.15 - Session II: 1968 in France & the U.S.

Chair: John Horgan (Dublin)

Speakers:
• Sarah Waters (University of Leeds)
• Helena Sheehan (DCU)

12.15 - Lunch

1.15 – 3.00 - Session III: The Visual Culture of '68, Then & Now

Chair: Niamh NicGhabhann (University of Limerick)

Speakers:
• Interview: Eoin Devereux (University of Limerick) & Paul Tarpey (LIT Limerick School of Art & Design): 'Art Practice, Limerick, May 68'
• John-Paul Dowling (National College of Art and Design, Dublin): 'Graphic Design and May 68'
• Dara Waldron (LIT Limerick School of Art & Design): 'Film Culture and May 68'

3.00 - Coffee Break

3.15 – 3.45 - Session IV: Community, Political Rights & the Irish
Language/Pobal, Cearta Polaitiúla agus an Ghaeilge

Chair: Michael Kelly (University of Limerick)

Speaker: Sorcha de Brún (University of Limerick): 'Gluaiseacht Chearta Sibhialta na Gaeltachta / the Gaeltacht Civil Rights Movement: A Short Documentary and its Background'

3.45 - 5.00 - Session V: '68 in Ireland, Then & Now

Chair: Tadhg Foley (NUI Galway)

Speakers:
• Margaretta D'Arcy (Galway)
• Brian Hanley (The University of Edinburgh)

5.00 - 5.30 - Closing Discussion

May '68: Today & Tomorrow

Chair: Harry Browne (Dublin Institute of Technology (DIT)

Parallel Exhibitions

Exhibition of screen printed posters that re-envisage the 'Atelier Populaire' in a contemporary context designed by a multi-disciplinary team of students from across the School of Design at National College of Art and Design, Dublin.

Exhibition of bilingual German-English wall newspapers about the German student movement of 1968, its aftermath and its contemporary legacy produced by 4th year students of German at the University of Limerick.

Notes on Speakers:

Harry Browne, raised in the U.S. in the 1960s & 70s, is senior lecturer in the School of Media at DIT, coordinator of the Centre for Critical Media Literacy & author of 3 books, including his most recent Public Sphere (2018).

Sorcha de Brún is a lecturer in Irish Language & Literature at UL. Sorcha lectures on modern Irish language prose, poetry & film. Her PhD research was on men & masculinities in the contemporary Gaeltacht novel, & she has a particular interest in intersectionality as applied to contemporary Irish language issues.

Eoin Devereux is Associate Professor of Sociology at UL. His main teaching & research interests are focused on Popular Music & Media Studies. He has published extensively on media representations of poverty & exclusion.

John-Paul Dowling is heavily involved in typography. His work in research, education and as a practitioner has been recognised in various capacities by AtypI, ISTD, SOTA, European Design Awards and Beazley Designs of the Year. He has spoken at many design conferences and institutions, most notably TypeCon 2011/2014, Face Forward 2015, ICTVC 2016, AtypI 2016, OFFSET 2017 and The Future 2017; where he interviewed Dr Nelly Ben Hayoun and Stefan Sagmeister. He has lectured internationally and is currently Head of Communication Design at the National College of Art & Design, Dublin. He is also Education Director, Board Member and Fellow of the International Society of Typographic Designers. In 2017 he was awarded Fellowship of the Royal Society of Arts (FRSA) in recognition of his significant contributions to social change through design education.

Gretchen Dutschke is an author & former student activist. Born in the U.S., Gretchen moved to Berlin in 1965 where she met German student leader Rudi Dutschke. The couple married a year later. After his untimely death in 1979 due to brain injuries sustained in an assassination attempt on 11 April 1968, she returned to the U.S. Among her publications are Wir hatten ein barbarisches, schönes Leben: Rudi Dutschke - Eine Biographie (1996) & an edition of the diaries, Rudi Dutschke: Jeder hat sein Leben ganz zu leben. Die Tagebücher 1963–1979 (2003). Her memoirs 1968: Worauf wir stolz sein dürfen was published in 2018.

Margaretta D'Arcy is a playwright, film maker, broadcaster & theatre activist. Her play Vandeleurs Folly, based on the Ralahine Project in Co. Limerick, was put on by the 7/84 Theatre Company & broadcast on the BBC & RTE as The Manchester Enthusiasts.

Tadhg Foley is Professor Emeritus of English at NUIG. He is a graduate of NUIG & the University of Oxford & his most recent publication is Death by Discourse? Political Economy & the Great Irish Famine (2016).

Brian Hanley is a professional historian based in Dublin. He is also Research Fellow at the School of Classics, History & Archaeology, UoE, working on the AHRC funded project 'A Global History of the Irish Revolution, 1916-1923'. His book on the impact of the Northern Ireland conflict on life in southern Ireland Boiling Volcano? will be published by MUP in August.

John Horgan, Emeritus Professor of Journalism in DCU, covered education in Ireland for the Irish Times from 1964 to 1977 & reported for that newspaper from the Berlin student disturbances in 1968. He served as a member of Seanad Éireann for the National University 1969-77, as a Labour TD from 1977-81, & as a member of the European Parliament 1981-83.



Jeremy Leaman

took German Studies with Economics at the University of Liverpool and completed a PhD at the same university on Friedrich Nietzsche's 'Will to Power as Art'. Until his retirement in 2016, he was employed at Loughborough University, teaching German studies and European Political Economy. He has written three monographs:

The Political Economy of West Germany 1945-1985

(1988)

,

The Bundesbank Myth – Towards a Critique of Central Bank Independence

(2000) and

The Political Economy of Germany under Chancellors Kohl and Schröder

(2009)

, as well as numerous chapters and articles. His current research focuses on the macroeconomic foundations of Social Investment in Europe within the framework of an Horizon 2020 research programme. Jeremy was managing editor of the

Journal of Contemporary European Studies

for 21 years

and of

Debatte – Review of Contemporary German Studies

for 10.



Niamh NicGhabhann is Assistant Dean, Research for the Faculty of Arts, Humanities & Social Sciences at UL, & Course Director of the M.A Festive Arts Programme at the Irish World Academy of Music & Dance at UL. Her research interests include the visual & material cultures of protest, festivity & public gatherings.

Helena Sheehan is Emeritus Professor at DCU. She is an author & activist. Her books include: Marxism and the Philosophy of Science: A Critical History (1985), Irish Television Drama: A Society & Its Stories (1987) & The Syriza Wave: Surging & Crashing with the Greek Left (2017). An autobiographical work entitled: Navigating the Zeitgeist will be published in 2018.

Paul Tarpey is a senior lecturer at LSAD & is currently finishing a PhD on Resistance & Place in Limerick from 1965-1973. His art practice engages with the legacy of the subcultural strands hosted by the city from 1965 onwards, concentrating on the presence of youth culture in the everyday. As part of the annual Make a Move Festival, Paul facilitates music, urban art projects and psycho-geographic walks mapping the city as a site that continuously generates resistance.

Dara Waldron lectures in Critical & Contextual Studies at LSAD. His current research explores the relationship between fiction & non-fiction in the realm of creative documentary. This body of research forms the basis of Dara's forthcoming book New Nonfiction Film: Art, Poetics & Documentary Theory, to be published by Bloomsbury late 2018.

Sarah Waters is Professor of French Studies at the University of Leeds. She has written two monographs: Social Movements in France (2003) & Between Republic & Market. Globalisation & Identity in France (2012) & an edited book entitled: Memories of 1968. International Perspectives (2010).