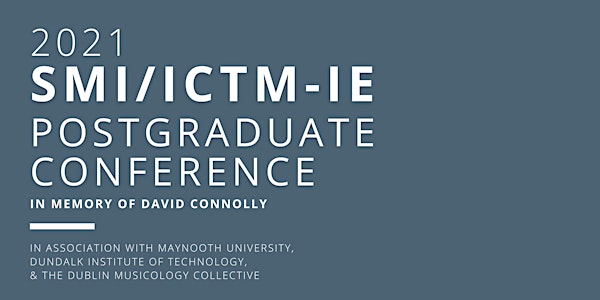 2021 SMI/ICTM-IE Postgraduate Conference
Join us for the Joint SMI and ICTM-IE Postgraduate Conference on 22 January 2021.
About this event
The Society for Musicology in Ireland and the Irish National Committee of the International Council for Traditional Music are jointly hosting a special postgraduate digital conference on 22 January 2021. The conference is held in association with Maynooth University, Dundalk Institute of Technology, and the Dublin Musicology Collective.
In lieu of traditional papers, delegates will present 10-minute lightning papers designed to introduce the key tenets of their research to the SMI/ICTM-IE community. The conference aims to showcase the wonderful research our graduates are undertaking in a collegial forum which offers students the opportunity to gather feedback, connect with colleagues, and come together during these unusual times.
This celebration of our graduates' work in Ireland is being held in memory of our late colleague, Dr David Connolly, Lecturer in the Department of Creative Arts, Media and Music at Dundalk Institute of Technology, who died in April this year. Our one-day event will feature music performances from Maynooth University and DkIT, and a keynote address by Nicole Grimes, Associate Professor at Claire Trevor School of the Arts, University of California, Irvine.
Further details will be posted on the SMI webpage.
Attendance is free but delegates must register in advance.