3rd Trial Methodology Symposium 2017
Description
The HRB-TMRN are delighted to announce that the 3rd Annual Trial Methodology Symposium will take place in The Radisson Blu St Helens Hotel Dublin on Friday October 20th.
The theme for this years Symposium will be "Transparency in Trials". Full details available now at https://www.hrb-tmrn.ie/3rd-trial-methodology-symposium-2017/ This event is approved for 6 CPD credits.
The HRB-TMRN welcomes expressions of interest from members of the public who wish to attend our events. A limited number of free places will be offered to those interested. Please contact hrb-tmrn@nuigalway.ie (or call 091 494493) for further details.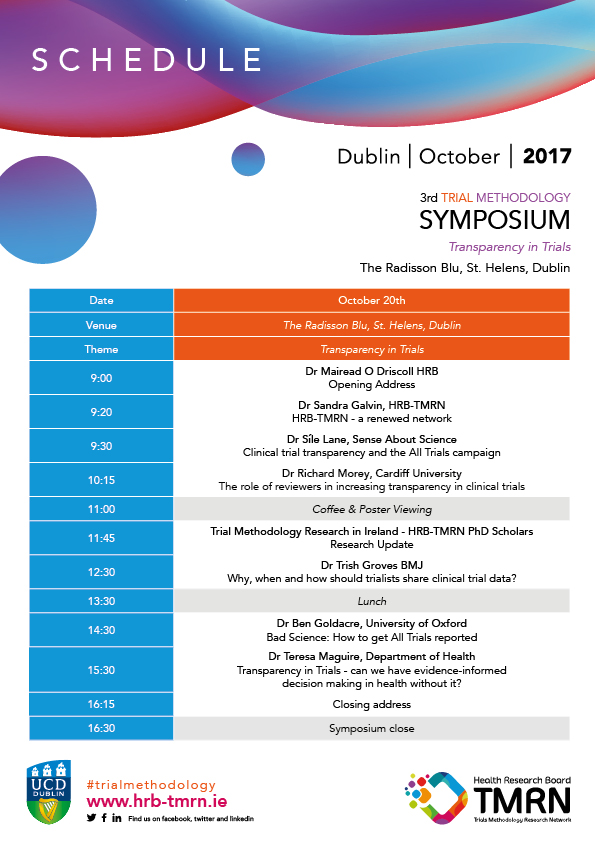 Organiser of 3rd Trial Methodology Symposium 2017
The 'HRB-Trials Methodology Research Network (HRB-TMRN)' is a collaborative initiative between a number of Irish and international higher education institutes and methodology centres. Its mission is to strengthen the methodology and reporting of trials in health and social care on the island of Ireland so that they become more relevant, accessible and influential for patients and other service users, practitioners, policy makers and the public. This will be achieved through a programme of work relating to the methodology of trials and focussed on (i) support (ii) training and education and (iii) research and innovation.
Please visit www.hrb-tmrn.ie for further information.