Event Information
Location
Point Square
East Wall Road
D01 E0K6 Dublin
Ireland
Description
Design Meets Play - International Conference
Design Meets Play brought to you by A Playful City and proudly sponsored by Bank of Ireland and KLM is an international conference on the 17th of October in Dublin City with a host of inspirational speakers and diverse mix of attendees of all ages to discuss the serious business of play!
Together, we will explore key themes of interest identified via the public consultations and then with diverse stakeholders, and at the hackathon in the evening, we will take the learnings shared during the day and from the consultations to 'hack' play and develop prototypes for temporary interventions in proposed sites in Dublin. These interventions will then be implemented over the next months, into 2018.
This event will take place on the 17th October in the Point Square. Tickets include tea/coffee as well as a lunch unlike any seen before, playfully imagined and created by Jennie Moran of Luncheonette.
**It will not be possible to buy food from our caterer on the day - separate food tickets are available for those whose tickets do not come with food (ie Kids / young adults)
**If you are interested in a special group ticket rate, please email us at playfulcity@gmail.com
**This event fulfills RIAI CPD points.


Speakers:
UK // Amica Dall (Assemble Collective, Turner Prize winner)
UK // Adrian Voce OBE (Child-friendly Cities Network)
Ireland // Dr. Jackie Bourke (Child-friendly cities researcher and advocate)
Holland // Elger Blitz (Carve)
Scotland // Maguerite Hunter Blair (Play Scotland)
Belgium // Eduardo Santander - (CEO European Travel Commission)
France // Marine Cerceau (Le Jardins Du Rousseau - with the support of the Embassy of France in Ireland)
Finland // Marketta Kyttä (Urban Planning / Child-Friendly cities expert)
Denmark // Dorthe Pederson (Cycling Without Age)
Holland // Jos de Krieger (Superuse Studios)
Ireland // Rhona Byrne (Artist / community engagement)
Ireland // Laurence Colleran (South Dublin Council)
Ireland // Diana Oprea (youth representative UNICEF)
Northern Ireland // Jacqueline O'Loughlin & Alan Herron (Playboard UK)
Ireland // Joe Lyons (youth with leading role in Dominic play space project)

Ireland // Phiip Halton (skateboarder / Cork Street Park)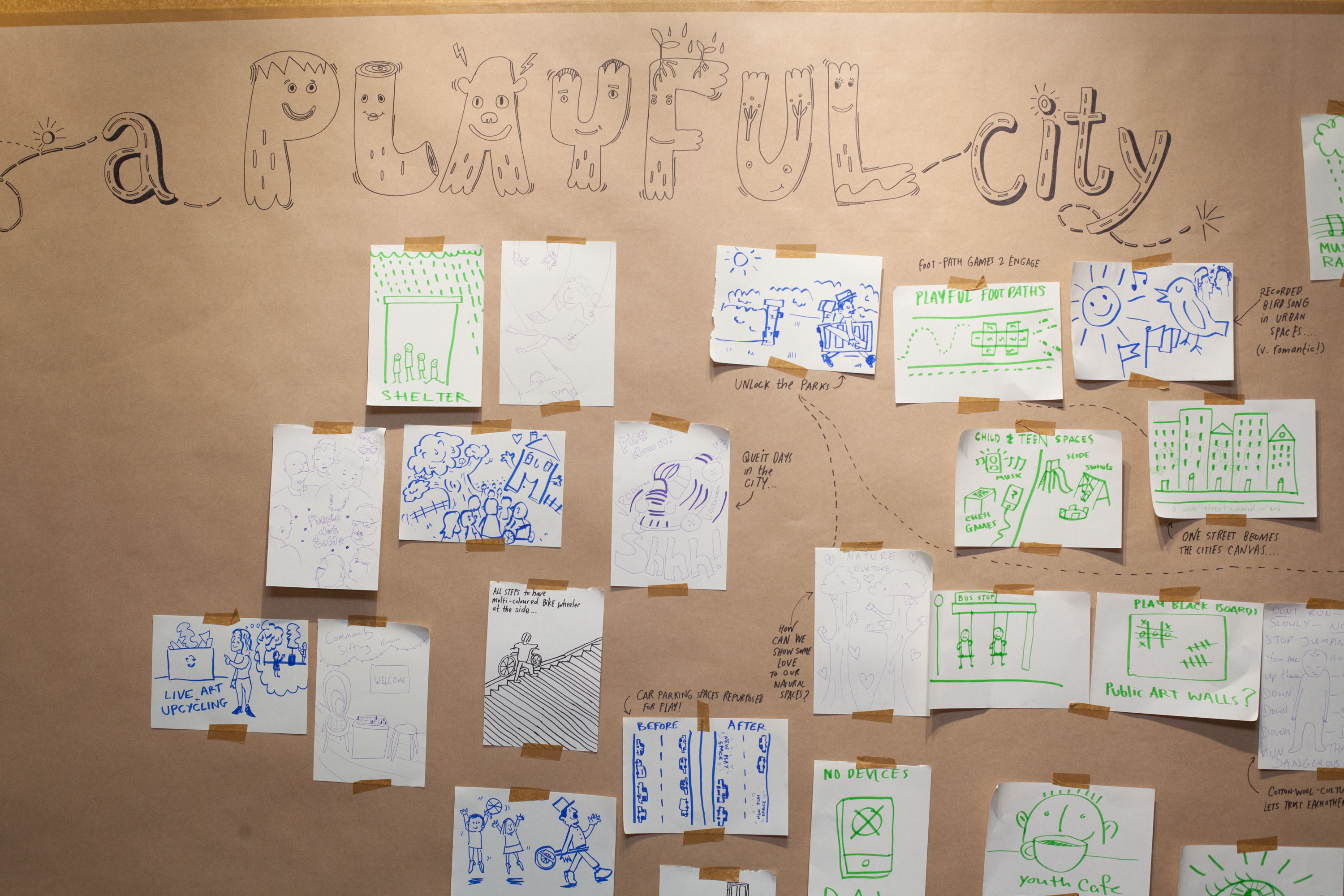 Extra extra info:
Design Meets Play is the culmination of the first year of A Playful City project.
A Playful City is a project exploring and responding to the need for a more playful, child-friendly, engaging and inclusive city. The purpose of A Playful City is to bring together diverse perspectives to co-create a city by and for its people.
We are doing this through a series of steps that will ultimately lead to playful interventions implemented in the city centre of Dublin.
To start our user-driven process we invited over a hundred stakeholders to our co-creation charrette in March - they helped us to understand our shared vision for Dublin as A Playful City and to shape the consultation process, leading up to the 17th October event. A range of voices that have never before been in one room came together - from youth advocates to architects, NGOs to gamers, policy makers to designers, businesses, academics, city planners and more gathered at The Tara Building....You can see the video of our launch event on the Home page :)
During the summer, we will bring A Playful City as a concept out to the public at large, engaging in consultations with people of all ages - but most importantly - children and young people. The purpose of this is to really listen to and understand what the people of Dublin want in their city so that our approach can be bottom-up rather than top-down. To facilitate these consultations, partner Seán Harrington Architects is designing a playful mobile interactive installation, that will travel all over Dublin engaging children, young people and adults on their vision for the future design of public spaces in the city. We will also be engaging with over 2000 families living in the inner city (some of whom are homeless) through our partners in the Early Learning Initiative at the National College of Ireland. .. AND we'll be transforming Sheriff Street into A Playful Street on September 13th as part of our consultations - AND some well-known street artists will be colouring some walls in the city with A Playful City messages and giving all people the opportunity to have their say on play - keep an eye out!
All of the data and networks developed will feed into and shape the content of the Design Meets Play conference on October 17th - with local and international speakers responding directly to the needs identified in Dublin by the people who live here.
In the evening, a diverse array of stakeholders, children to designers, city councillors to artists and children's rights advocates and more, will come together for the Hackathon for Play, creating prototypes for interventions in proposed city locations.
Finally, the temporary interventions will be designed, and implemented in Spring 2018 - giving the city the first taste of our collective vision.
The next steps? To continue and grow A Playful City each year.
Thanks and a shout out to all our amazing participating partners: KLM, University College Dublin, Science Gallery Dublin, Seán Harrington Architects, UNICEF Ireland, Leave No Trace Ireland, Early Learning Initiative, National College of Ireland - IFSC, Early Childhood Ireland, Recreate Ireland, GoCar Ireland, Waterways Ireland, Streetfeast, Joined up, and Henry J Lyons Architects!
Date and time
Location
Point Square
East Wall Road
D01 E0K6 Dublin
Ireland
Refund policy