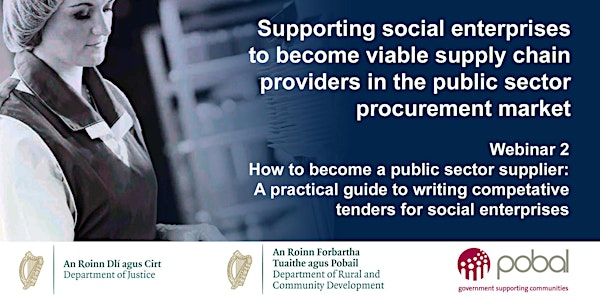 A practical guide to writing competitive tenders for social enterprises
This session will provide potential suppliers with a guide to answering tender invitations
About this event
This training session will provide potential suppliers with a step by step guide to answering tender invitations, what to look for, what is crucial to be answered and what is of less importance.
It will explain how the procurement process works from the public buyers' perspective: from pre-publication of a tender to contract close. All tenders require social enterprises to have minimum requirements such as insurance cover and reference sites. The session will demonstrate how to assemble a Bid Library of background compliance documents. In addition, the webinar will show social enterprises how to write and price tender submissions and to use feedback from buyers to make their bids more compelling and competitive.
It will focus on the following:
• Understanding what procurers are seeking – specifics of the contract
• Downloading the relevant documentation
• Where to start? Building your tender
• Real case study identified on eTenders and tendering process worked through
• How to submit your tender
• What next
• Questions & Answers
Training will be provided by BidServices. Participant numbers are limited, please sign up only if you are sure to attend.