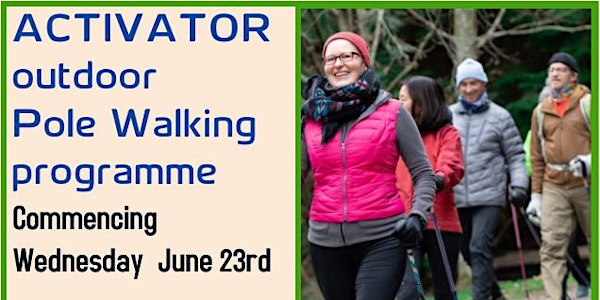 Activator Poles Programme @ Phoenix Centre Carrickmacross
This is a fun outdoors aerobic exercise programme, which works on balance, mobility and strength. Poles are provided.
When and where
Location
Coral Leisure Monaghan Clones Road H18 A384 Monaghan Ireland
About this event
Monaghan Sports Partnership is delighted to launch our very new Activator Poles programme.
This is a 6-week programme happening every Wednesday morning at 11am at Phoenix Centre Carrickmacross beginning Wednesday the 23rd of June.
Activator Poles have been proven to have many benefits including:
- Improving posture, balance, stability and confidence to prevent falls.
- Increasing walking duration, speed, and step count.
- Enhancung coordination and rhythmical movement.
- Increasing strength of core muscles and other key muscle groups.
- Improving aerobic fitness and increased caloric expenditure.
- A great fun and social way of getting fitter and meeting new friends
This is a fun outdoors aerobic exercise programme, which works on balance, mobility and strength. Poles are provided.
These activity sessions will be lead by an experienced and qualified facilitator who will have undergone extensive training in Covid-19 protocols prior to programme commencing. The programme will have limited numbers and will adhere to social distancing and all other Government and HSE guidelines at all times.
Every possible effort will be undertaken by MSP and our facilitators to ensure all necessary protocols and best practices are followed to mitigate against the possibility of infection, we ask that all participants in this programme also undertake such efforts to limit the possibility of infection.
We ask that participants not congregate less than the recommended 2-metre social distancing rule either before, during or directly after this programme.
If, before any weekly session you are feeling unwell or feel like you may be developing some symptoms associated with not only the Covid-19 but attributed to other illnesses we ask you to please refrain from attending the weekly session.
As part of the questions asked in this registration form, you will be asked specific questions relating to the last 14 days. These questions are mandatory and are asked to help mitigate against any possible spread of the Covid-19. Each week we will ask has there been any change to the answers which you gave before the commencement of the programme. An answer to these questions is also compulsory.
Things to remember:
• Are you well enough to be able to partake in this weekly programme
• When taking part practice social distancing – (while Covid-19 advice is still in place)
• Keep a minimum 2-metre distance from others at all times
• Practice coughing and sneezing etiquette, using a tissue or into the elbow if you do not have a tissue and wash hands immediately on return from walk
• Dispose of all used tissues / cleaning wipes etc in the bin provided by MSP
• Enquiries to info@monaghansports.ie or 042-9755126
Disclaimer
You should understand that when participating in any exercise or exercise programme, there is the possibility of physical injury. If you engage in this initiative, you agree that you do so at your own risk, are voluntarily participating in these activities, assume all risk of injury to yourself, and agree to release and discharge Monaghan Sports Partnership from any and all claims or causes of action, known or unknown, arising out of participating in this programme.
Enjoy and stay safe- the Sports Partnership team!!