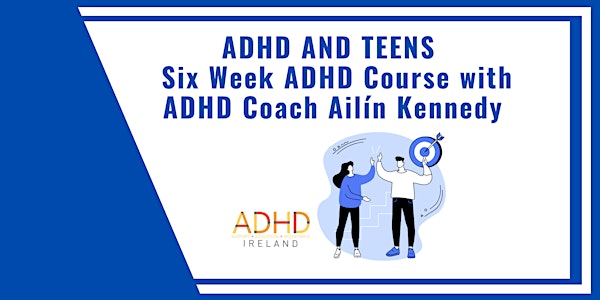 ADHD and Teens - Six Week ADHD Course with ADHD Coach Ailín Kennedy
A six-week course designed for teenagers with ADHD with ADDCA-trained coach Ailín Kennedy.
Date and time
Mon, 29 May 2023 11:00 - Mon, 3 Jul 2023 12:30 PDT
About this event
I'm Ailín Kennedy, an ADHD coach and advocate from Cork!
I was diagnosed with ADHD when I was 32 after a lifetime of wondering why I felt so different, and why I struggled so much. It's been an incredible opportunity to discover this about myself, and I have managed to turn it into a career by becoming an ADHD coach. I help ADHD and Neurodivergent people understand how their own neurodiversity shows up, and how to access their unique strengths.
This course is specifically for teenagers living with ADHD, finding opportunities to understand and work with their ADHD rather than against it, and a chance to work towards self-acceptance. It spans six weeks (1.5 hours per session) and covers the following topics:
Week 1: Understanding ADHD
Week 2: Executive Dysfunction & Organisation
Week 3: Self-care
Week 4: Friendships & Relationships
Week 5: Motivation
Week 6: Advocacy
This programme is free to participants with thanks to funding from The RTE Toy Show Appeal, Community Foundation for Ireland.
About the organiser
ADHD Ireland envisages a future where all individuals affected by ADHD are included, supported, and empowered in all contexts of their lives (e.g. school, work, home, and socially) to participate fully within, benefit from, and contribute meaningfully to Irish society.
ADHD Ireland is the national organisation that works to support those with ADHD and endeavours to enable this.