Event Information
Location
Online webinar
James Hardiman Library online event
National University Of Ireland Galway
Galway
Ireland
Advanced Searching on Ovid for systematic reviews
About this event
Description
Building upon the Introduction to Ovid course, this training session is designed for more experienced users who need to carry out and maintain complex searches and search strategies. The course focusses primarily on the Advanced Search modus. It looks in detail at the effective use of Boolean operators (OR, NOT, FREQ, AND, ADJn), truncation and wild cards, as well as command line searching where appropriate.
The Advanced Searching on Ovid course additionally highlights how to build a search strategy, how to search purposefully with subject headings and keywords, how to use a thesaurus's Explode and Focus options as well as how to use subheadings. Further the course shows users how to combine search statements and use filters and limits and how to save and edit search statements and strategies. The course concludes by reviewing advanced searching techniques across multiple databases on the Ovid interface and then how to remove duplicate references to arrive at a "de-duplicated" result set.
The session will take place virtually. The meeting link will be emailed to attendees in advance.
Presenter:
Michael Fanning
Training Manager
Customer Success, EMEA
Health Learning, Research & Practice
Wolters Kluwer
See List of Ovid databases available via Library at NUI Galway: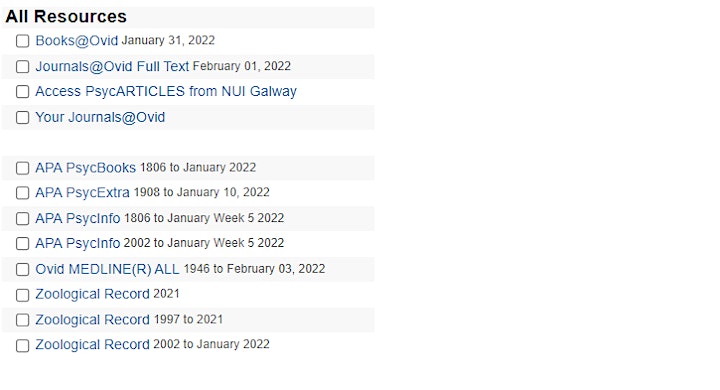 Date and time
Location
Online webinar
James Hardiman Library online event
National University Of Ireland Galway
Galway
Ireland