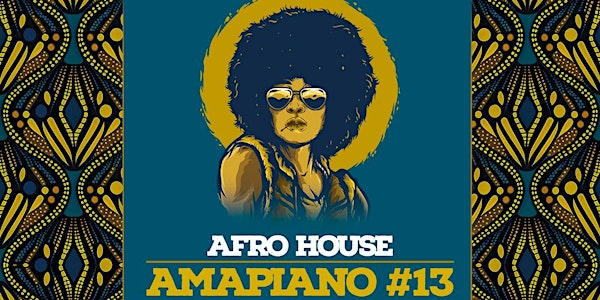 Afro House & Amapiano #13
Your Irish based main installation specialised in Afro House, Amapiano & Everything Groovy is back for its first of 2023 in Cork City
Date and time
Sat, 25 Feb 2023 19:00 - Sun, 26 Feb 2023 01:00 GMT
Location
An Spailpín Fánach 29 South Main Street Cork Ireland
About this event
Music Menu : Afro House, Amapiano & Everything Groovy
⭐️ Tier Tickets available
⭐️ Remaining tickets will be available at door for 10 euros
⭐️ Hosts:
DJ Gwada Mike 🇸🇷🇫🇷
DJ Muscle 🇸🇿🇿🇦
⭐️ Guest : Taboo
⭐️ Music from 7pm
⭐️ 10 first students get in for free when they showcase their student card at the door
⭐️⭐️ See you there!😊🎶⭐️⭐️
About the organiser
Born and raised organicly in Guadeloupe, Gwada Mike started to take DJing seriously around 1996 while being a student in Limoges.
In this town he was also playing drums and singing, but took the opportunity to host multiple shows in clubs, students events & Private Parties.

Then he moved to Paris in 1999 where he became part of the Dancehall Echo family who is hosting probably the oldest Reggae Dancehall radio show live on air (since 1982) in the French capital, every Saturday night on Aligre FM with the mixmaster Mystone and the rest of the team.

Based in Cork since August 2006
Gwada Mike have started playing alone in the the city and afterward created from 2007 the concept D-Flavors alongside DJ Frenchy originally in Liquid Lounge.

Since 2012 he's a resident DJ in Edison (ex Long Island & Lost Weekend ) and host until now the one and only Afterwork in Cork City.
This concept gives the crowd an opportunity to enjoy an eclectic DJ set of almost 5 hours each time...mostly on the last Friday of the month & many guest DJs from Ireland and abroad have already made (and will make) an appearance.

During 2014/2015, he also hosted a radio show every Saturday night on Fusion Radio with Tricky Rom where he was playing only Reggae Dancehall while is accomplice was providing House Music with a massive French Touch.

He's made his way in Cork and around in multiple venues (Liquid Lounge, Society, Door 51, Woolshed, Pana the Pav, Roundie, Cyprus Avenue, Amp, etc.) always promoting eccelectic mixes with a systematic blend of Carribbean Tunes ☀️

Being from the Carribean it's all natural now that he offers you ecclectic DJ Set 
https://www.mixcloud.com/djgwadamike/ 
https://soundcloud.com/dj-gwada-mike
Peace.