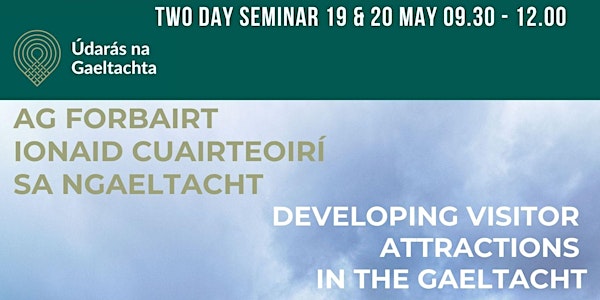 Ag Forbairt Ionad Cuairteoirí sa nGaeltacht - Leideanna & Treoir (2ú)
An Dara Seimineár
About this event
Tá Údarás na Gaeltachta ag eagrú seimineáir thar dhá mhaidin (an 19ú/20ú Bealtaine 2021) dírithe ar ionaid cuairteoirí sa nGaeltacht a fhorbairt. Díreoidh an seimineár ar na gnéithe atá de dhíth chun ionad ardchaighdeán a fhorbairt; an ghné mhiondíol, córas ticéadaithe, míniúcháin agus an treoraí san áireamh. Beidh Foireann Ionad Cuairteoirí Fháilte Éireann linn chomh maith. Tabharfaidh na seisiúin blaiseadh ar gach ní a bhaineann le hionaid cuairteoirí a fhorbairt do thurasóirí.
Údarás na Gaeltachta is organising a seminar over two mornings (19th /20th May 2021) aimed at Visitor Attractions in the Gaeltacht. This seminar will explore elements required to create a compelling attraction including guide training, the retail element, ticketing systems, planning the interpretation element. We will also hear from Fáilte Ireland's Attractions Team. The seminar will give a taster of the multiple elements that go into running a visitor attraction.
Am Clár / Timetable
09:30 – Fáiltiú Meadbh
09:40 – Stephen Forde/Ivan Tuohy - Great Visitor Experiences
10:10 – 10.20 Breakout Room 1
10:20 – Attraction Café (Caife Concession); Targeting visitors and locals.
10:40 Briseadh Tae/Caife
10.55 – Ewan McCarthy Bright 3D (Converting your story into an unforgettable experience)
11:15 - Catherine Flanagan AVEA – Association of Visitor Attractions Being part of a representative organisation
11:35 – Q&A
11.45 – Buíochas/Críoch Meadbh