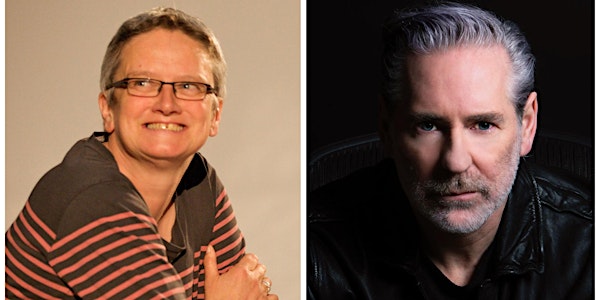 Agallamh Dátheangach / Blas Bilingual Interview
Join us for the 2021 Blas Bilingual Interview with Áine Hensey and guest dancer and choreographer Breandán de Gallaí
About this event
Tá an Agallamh Dátheangach bliaintiúl ag Blas á stiúriú ag Áine Hensey ó RTÉ Raidió na Gaeltachta, agus urraithe ag Foras na Gaeilge. Bígí linn don ócáid ar líne, saor in aisce seo, áit a mbeidh Breandán de Gallaí á chur faoi agallamh dátheangach ag Áine Hensey mar gheall ar a shaol gairme mar rinceoir.
The annual Blas Bilingual Interview is conducted by RTÉ Raidió na Gaeltachta's Áine Hensey and is supported by the generous funding from Foras na Gaeilge. Please join us for this free online event as Áine Hensey takes a bilingual approach when interviewing Breandán de Gallaí about his career in dance.
Craolfar an ócáid seo ar Zoom agus seolfar nasc go gach éinne le ticéid.
This event will be hosted through zoom and a link will be sent to all ticket holders.
Dr. Breandán de Gallaí (Beathaisnéis / Biography)
Dancer, choreographer and dance academic Breandán de Gallaí's involvement with dance is multifaceted.
In his capacity as artist director and choreographer of dance company Ériu, Breandán explores the poetic potential of the Irish dance form and presents work that is explorative and innovative in a contemporary context. He has created several works, most notably Walls Talk, Salómae, Aon, Lïnger, Rite of Spring and Noċtú.
Noċtú (2010/11) completed a 5-week residency at the Irish Repertory Theatre in New York. On the back of this run the show was nominated for 2 Drama Desk awards, "Outstanding Choreography" and "Unique Theatrical Event" (New York 2012).
Breandán second work, Stravinsky's Rite of Spring (2012) premiered at the opening of the Fleadh Cheoil na hÉireann in August 2012 attracting 14,000 spectators. The work received a nomination for the coveted Allianz Business to Arts Awards (Dublin 2013). Breandán has recently re-worked the Rite which the company performed at the Cork Midsummer and the Earagail Arts Festivals (June & July 2018). The company was honoured to be invited to perform the work at the International Festival of Arts "Diaghilev. P.S." in St. Petersburg in 2019.
Lïnger, which saw Breandán return to the stage after a 12-year hiatus, premiered in Project Arts, Dublin, January 2016, followed by performances in Firkin Crane Cork and Dance Limerick. In August 2016 Lïnger took part in the Edinburgh Fringe and was shortlisted for a Total Theatre and The Place Award for Dance. Since then Lïnger completed an 8-venue All-Ireland tour, with international performances in the Jack Crystal Theater New York, Théatro Sofia Bulgaria, and in Aix-en-Provence France.
Aon had its World Première in Amharclann Ghaoth Dobhair, Co. Donegal as part of the 2017 Earagail Arts Festival. These performances were followed by a 2-week run in Firkin Crane Cork. Aon toured Ireland, north and south, in November 2018.
In 2019 Breandán adapted Oscar Wilde's Salome (Salómae), which opened at the Galway International Arts Festival at An Taibhdhearc – Ireland's National Irish Language Theatre. This dance, music, and Gaeilge interpretation of the classic was a new departure for the company.
2020 saw the première of Walls Talk featuring blues/jazz singer Gina Boreham and Breandán. The show ran for a week at Project Arts Dublin, and Breandán hopes to tour both Salómae and Walls Talk in 2021/22.
As a dance scholar Breandán interest lies in the contemporisation of Irish dance. He completed a performance-based doctorate in 2013, the first of its kind in the world. His PhD in Arts Practice title is – "Imeall-Siúl: A Choreographic Exploration of Expressive Possibilities in Irish dance". He earned an MA in Ethnochoreology in 2009, and was external examiner for the MA in Traditional Irish Dance Performance at the University of Limerick from 2004 – 2008. Breandán has held the positions of Course Director of the Arts Practice PhD programme and the MA Irish Dance Performance at the University of Limerick. He is currently Course Director of the BA Irish Dance at the university.
As a dancer, Breandán toured with Riverdance from 1994 – 2003, 7 of which in the position of principal dancer. In 2007 he returned to Riverdance as Dance Director. His training is predominately in Irish step dancing, but is passionate about many dance genres and in 1988 he graduated from the Gus Giordano Dance Academy, Chicago, having been awarded a scholarship to study Ballet, Modern, Jazz and Tap dance.
Breandán held the position of artist in residence at the Irish World Academy of Music and Dance in 2008/9, and in County Cavan 2011/12. He regularly presents TV programmes for RTÉ and TG4 and acts in TG4's popular soap opera Ros na Rún. He also holds a B.Sc.(Hons) in Physics.
Breandán is currently developing 2 new works for 2021: The Village with Ériu, and Balor with the youth branch of the company – Na Mic Ua gCorra.