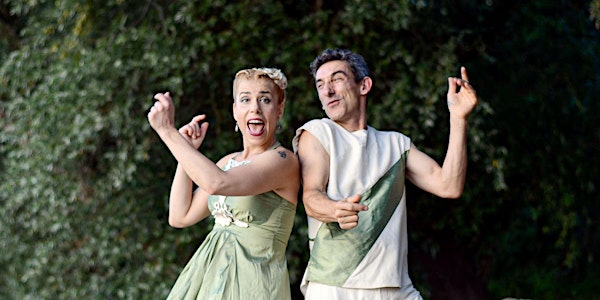 Alice in WonderBand - Balkan body music
Vokalno-plesni duo ki združuje svetovno glasbo in nenavadne ritme iz Balkana z glasbo in ritmično igro telesa. Koncert + Glasbena komedija
Date and time
Sat, 18 Mar 2023 20:00 - 23:00 CET
Location
Prulček - live music venue 2 Prijateljeva ulica 1000 Ljubljana Slovenia
About this event
Alice v WonderBandu sta dvojec izvajalcev, ki združujeta svetovno glasbo in nenavadne ritme iz Balkana s glasbo in ritmično igro telesa. Ana Vrbaški in Marko Dinjaški nastopajo na odru v gledališčih in koncertih in sta par v življenju že 25 let, živita v naravi, blizu narodnega parka Fruška gora.
Njun edinstveni način življenja povezuje glasbo s telesom in naravo. Nastopi so vibrirajoči in ritmični, močni in energični, križišče plesa, gibalnega gledališča in glasbe. Globoka, prvotna izkušnja vodi občinstvo na potovanje skozi Balkan in tudi v globine bitja. Izvajalci ustvarjajo petje in ploskanje skupnosti z občinstvom, občutijo se koreninami, utemeljenimi in navdihnjenimi.
Bend izvaja pesmi v enajstih jezikih, po Evropi (Nemčija, Francija, Italija, Turčija itd.) in bivši Jugoslaviji. Dokazujejo, da v večno viharastem področju Balkana obstaja enotnost preko kulture, glasbe, gibanja, ki prinaša razumevanje in spravo.
Program začenjamo z glasbeno komedijo Kiss - zgodbo o igri, flirtanju, šaljivosti, tekmovanju, a predvsem o ljubezni med moškim in žensko. Ta predstava je bila nagrajena za raziskovanje zvoka na več gledaliških festivalih.
Zasedba:
Ana Vrbaški - vokal, body percussion
Marko Dinjaški - vokal, body percussion, didgeridoo
Vabljeni na interaktivno glasbeno doživetje z globoko in edinstveno izkušnjo.
About the organiser
The power of music is undeniable. It can be used to bring people together, to heal broken hearts, or even change the world.